Heal Your Ancestral Roots: Release the Family Patterns That Hold You Back (Paperback)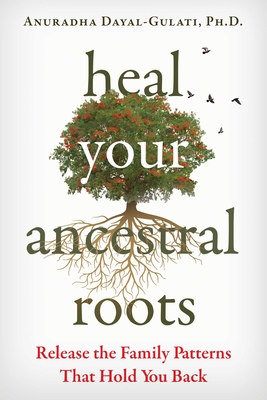 $18.99

Usually Ships in 1-5 Days
Description
---
A practical guide to releasing the burden of transgenerational legacies and reclaiming your power to create the life you want

• Explores the principles that govern your family energy field and the many ways this ancestral field can support you as well as how it can hold you captive

• Provides exercises and tools to help you recognize and release negative family patterns and heal ancestral trauma

• Discusses the importance of honoring your ancestors, sharing suggestions about altar creation, prayers, and the Vedic ritual of Tarpanam

Many people find themselves feeling stuck, unable to reach their goals. The same problems keep showing up in jobs and relationships no matter how much they try to make changes and overcome obstacles. What if the patterns that repeat in your life and relationships didn't originate with you? The source of your challenges could be rooted in ancestral trauma calling out to be healed. Experiences and wounds of your parents or grandparents as well as more distant ancestors can affect you; sometimes themes reappear in a family for several generations in a row—patterns of financial distress, sibling rivalry, divorce, or conversely long happy marriages, good health, and good humor.

An energy practitioner specializing in ancestral and emotional healing, Anuradha Dayal-Gulati provides exercises and tools—such as journal practices, visualizations, mind mapping, and the Vedic ritual of Tarpanam—that can help you recognize and release negative family patterns and enhance positive ones. She shares her own healing journey and her experience with family constellation therapy, explains how to honor your ancestors, and explores in depth the use of flower essences to transform emotions and release generational trauma.

Teaching you how to recognize the patterns that manifest in your daily experiences, Heal Your Ancestral Roots shows how you can lift the unconscious, invisible barriers that keep you from creating the life you want.
About the Author
---
Anuradha Dayal-Gulati is an energy practitioner and transformational coach with a Ph.D. in economics. After fifteen years in finance and academia, she began a new path of helping people release the past and reclaim their power. Trained in flower essence therapy and family constellation therapy, she lives in Boston, Massachusetts.
Praise For…
---
"Anuradha Dayal-Gulati, Ph.D., has written a thoroughly engaging guide to gaining more contentment, fulfillment, and harmony in life. This gem of a book will make an important contribution to the emergence of new energy-based therapies. It is rare to find a guide to the gifts of the Earth, ancestors, and spirit that is so highly informative and heartfully lyrical."
— Dan Cohen, Ph.D., family constellation facilitator and author of I Carry Your Heart in My Heart: Fam

"Anu's clear, concise, down-to-earth writing style and easy-tofollow exercises make her book one of the best for beginners, clients, and practitioners alike. Sharing her step-by-step process, she shows you how to find peace and contentment in your life by connecting to yourself, to your family energy field, to the Earth, and ultimately to the Source of all that is. I wholeheartedly recommend this book."
— Susan Ulfelder, ND, LMT, BCPP, RDH, traditional naturopath, doctor of integrative medicine, and foun

"This book seeks to outline an alternative path forward—one that involves healing one's roots and forging a new path. To accomplish this, the book introduces two crucial concepts— family energy fields and flower essences—that complement familiar techniques to address family trauma, like therapy and essential oils."
— Foreword Reviews

"Heal Your Ancestral Roots offers a thought-provoking option for dealing with family issues, creating a path to a more fulfilling life."
— BlueInk Review

"A compelling, spirited guide that aims to help readers understand who they come from."
— Kirkus Reviews

"In this compassionate entry, personal development coach Dayal-Gulati charts a path for readers to heal from ancestral trauma. This entry takes a nuanced approach to addressing family suffering, and readers will find her advice actionable and cathartic. Dayal-Gulati's wisdom will easily attract the spiritually inclined."
— Publisher's Weekly

"This is an enlightening guide for anyone looking to uncover how family history and intergenerational suffering impact our lives today. I was grateful to learn about energy medicine through flower essences, family constellations, rituals, and ceremonies. Awareness is often a first step toward action. Dayal-Gulati offers a non-traditional path toward healing, and it requires openness to be honest and vulnerable. Healing family trauma requires deep internal work over time, and I am thankful for the lessons shared in this book."
— Maileen Hamto, San Francisco Book Review