Napoleon Hill: Piense y hágase rico / Think and Grow Rich: La riqueza y la realización personal al alcance de todos (Paperback)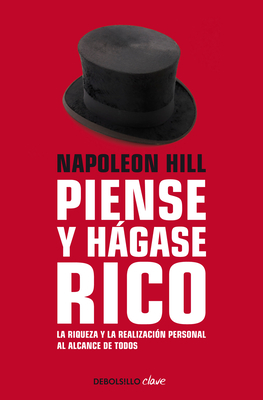 $15.95
Email or call for price.
Description
---
Esta edición es publicada por Penguin Random House Grupo Editorial.
Uno de los libros de desarrollo personal y superación personal más populares de todos los tiempos, Piense y hágase rico ha vendido más de 100 millones de copias en todo el mundo desde su primera publicación durante la Gran Depresión. Napoleon Hill presenta una "Filosofía del logro" en 13 principios extraídos de las historias de éxito de grandes como Andrew Carnegie, Henry Ford, Thomas Edison y otros millonarios de su época.

Piense y hágase rico revela los secretos que pueden traerle fortuna. Al suprimir los pensamientos negativos y mantener su enfoque en el largo plazo, puede encontrar un éxito verdadero y duradero. Napoleon Hill detalla su filosofía a través de los siguientes 13 principios:

01. el deseo
02. la Fe
03. la autosugestión
04. el conocimiento especializado
05. la imaginación
06. la planificación organizada
07. la decisión
08. la perseverancia
09. el poder del pensamiento maestro
10. el misterio de la transmutación del sexo
11. el subconsciente
12. el cerebro
13. el sexto sentido
ENGLISH DESCRITION

One of the most popular personal development and self-improvement books of all time,Think and Grow Rich has sold over 100 million copies worldwide since its first publication during the Great Depression. Napoleon Hill presents a "Philosophy of Achievement" in 13 principles drawn from the success stories of such greats as Andrew Carnegie, Henry Ford, Thomas Edison, and other millionaires of his time.
Think and Grow Rich reveals the secrets that can bring you fortune. By suppressing negative thoughts and keeping your focus on the long term, you can find true and lasting success. Napoleon Hill details his philosophy through the following 13 principles:

   1. Desire
   2. Faith
   3. Autosuggestion
   4. Specialized Knowledge
   5. Imagination
   6. Organized Planning
   7. Decision
   8. Persistence
   9. Power of the Master Mind
   10. The Mystery of Sex Transmutation
   11. The Subconscious Mind
   12. The Brain
   13. The Sixth Sense
About the Author
---
Napoleón Hill se mantiene en la actualidad como uno de los autores de autoayuda y superación más prestigiosos de todo el mundo. Gracias a él y a sus aleccionadoras palabras, cientos de miles de personas corrientes se han sentido motivadas para convertirse en supermillonarias. Fue asesor de varios presidentes de Estados Unidos: Woodrow Wilson y Franklin Delano Roosevelt.