Portrait of an Unknown Lady: A Novel (Paperback)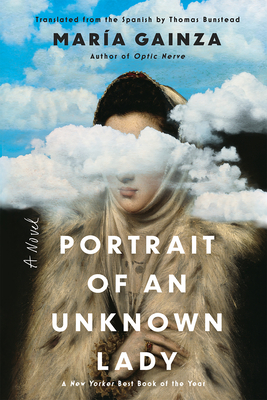 $15.95

Usually Ships in 1-5 Days
Description
---
A New York Times Book Review Editors' Choice

New York Times Notable author María Gainza, who dazzled critics with Optic Nerve, returns with the captivating story of an auction house employee on the trail of an enigmatic master forger

In the Buenos Aires art world, a master forger has achieved legendary status. Rumored to be a woman, she specializes in canvases by the painter Mariette Lydis, a portraitist of Argentinean high society. But who is this absurdly gifted creator of counterfeits? What motivates her? And what is her link to the community of artists who congregate, night after night, in a strange establishment called the Hotel Melancólico?

On the trail of this mysterious forger is our narrator, an art critic and auction house employee through whose hands counterfeit works have passed. As she begins to take on the role of art-world detective, adopting her own methods of deception and manipulation, she warns us "not to proceed in expectation of names, numbers or dates . . . My techniques are those of the impressionist."

Driven by obsession and full of subtle surprise, Portrait of an Unknown Lady is a highly seductive and enveloping meditation on what we mean by "authenticity" in art, and a captivating exploration of the gap between what is lived and what is told.
About the Author
---
María Gainza was born in Buenos Aires, where she still resides. She has worked as a correspondent for The New York Times in Argentina, as well as for ARTnews. She has also been a contributor to Artforum, The Buenos Aires Review, Radar, the cultural supplement from Argentine newspaper Página/12. She is coeditor of the collection Los Sentidos (The Senses) on Argentinean art, and in 2011 she published Textos elegidos (Selected Texts).

Thomas Bunstead has translated some of the leading Spanish-­language writers working today, including Bernardo Atxaga, Agustín Fernández Mallo, and Enrique Vila-­Matas, and his own writing has appeared in publications such as Brixton Review of Books, Lit Hub, and The White Review. He is currently a Royal Literary Fellow teaching at Aberystwyth University. He was born in London and now lives in Pembrokeshire, Wales.
Praise For…
---
A New York Times Book Review Editors' Choice
A New Yorker Best Book of the Year
A Kirkus Reviews Best Book of The Year
A Town and Country Must-Read Book of Spring
A CrimeReads Best International Crime Book of the Month

"Gainza has much to say about the creative life, about art and ways of seeing, about perception and reality, authenticity and simulation, fidelity and betrayal. These are matters she takes seriously and about which she writes with exceptional acuity and precision. But the dominant spirit . . . is one of playfulness and humor." —Sigrid Nunez, The New York Review of Books

"Argentine art critic and novelist María Gainza's Portrait of an Unknown Lady takes an unorthodox perspective on the modern-art market, offering a kind of homage to the underworld of forgery . . . Ms. Gainza proves herself a dab hand at concisely digesting artists' lives, finding delight in idiosyncrasy and social rebellion." —Sam Sacks, The Wall Street Journal

"María Gainza's Portrait of an Unknown Lady, translated from Spanish by Thomas Bunstead, takes a more philosophical look at the art world by questioning what constitutes an artist. The titular portrait is figurative; our narrator, a disillusioned art critic in Buenos Aires using the nom de plume María Lydis, is investigating a mysterious figure . . . Bunstead's colorful translation reads at times as an adventure serial, at times as a hard-boiled noir, and throughout it all, María uses her wit, erudition and sass to suss out the true meaning of art." —Cory Oldweiler, The Washington Post

"Gainza weaves a fascinating, often confounding story about beauty, obsession and authenticity . . . Like Bolaño, she writes stories within stories, each with its own melancholy mood and unsolvable mystery . . . A novel with many beautiful, confounding moments. Maria Gainza is sharp, modern and playful, a writer who multiplies the possibilities for fiction." —Johanna Thomas-Corr, The Guardian

"Exploring issues of authenticity and originality, Argentine novelist and art critic Gainza offers up an impressionistic, unconventional, and highly rewarding novel about a group of art forgers in Buenos Aires in the 1960s." —David Conrads, The Christian Science Monitor

"A truly exquisite novel . . . moving, clever and written with a wry precision." —Stuart Kelly, The Scotsman

"There's a lot to like in Portrait of an Unknown Lady, from the slick Argentinian high-society setting, to the lovely writing and laudable translation from Bunstead." —Ian J. Battaglia, Chicago Review of Books

"The value of truth, reality, and authenticity are all interrogated in this stunningly slippery novel, as Gainza eloquently probes the difference between art and artifice . . . Portrait of an Unknown Lady is wholly original, a quality which things both real and replicated can possess, so long as the creator knows what they are doing. And, with Gainza, readers are in the hands of a master." —Kristin Iversen, Just Circling Back

"Intelligent and tensile . . . A loose investigation into the nature of art and of memory, scattered with gems of intrigue and insight." —Emily Temple, Lit Hub, One of the Most Anticipated Books of the Year

"A mesmerizing deep dive into the art world through a neo-noir female detective's quest to find a forger in Buenos Aires . . . Dreamy and atmospheric . . . Portrait of an Unknown Lady, eschewing structure and neat plot convention for vibrant language and a hypnotic voice, complicates rather than clarifies the stories that are told about enigmatic women." —Shelf Awareness (starred review)

"This captivating work is one to savor." —Publishers Weekly (starred and boxed review)

"The work of an author in full command of her talents. The result is an exploration of identity and authenticity that asks what it means to be 'real,' as the term is applied either to a work of art or to a life . . . Subtle, incandescent, and luminous—a true master's work." —Kirkus Reviews (starred review)

"The mutable, esoteric art world is again the setting for award-winning Argentinian Gainza's latest, deftly translated by British writer-editor Bunstead . . . Shrewd audiences will surely enjoy the engrossing challenge of an unpredictable pursuit." —Booklist

"There are many pleasures to be had in reading Portrait of an Unknown Lady: its sublime, transcendent sentences, its arch and shadowy figures. Most of all, the zone to which you are transported, which is a Buenos Aires of canvases, trap doors, and dreams." —Amina Cain, author of Indelicacy

"Vividly detailed and saturated with intricate feeling, Gainza's novel is an engrossing exploration of authenticity, obsession, and the enveloping allure of art." —Alexandra Kleeman, author of Something New Under the Sun