The Wind In the Willows: The Classic Heirloom Edition Hardcover with Slipcase and Ribbon Marker (Classic Children's Stories, Animal Stories, Illustrated Classics) (Hardcover)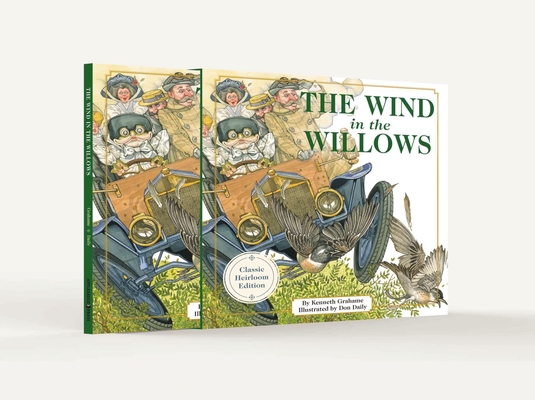 $24.95

Usually Ships in 1-5 Days
Description
---
This collectible heirloom edition of the nostalgic childhood classic The Wind In the Willows includes a special slipcase and ribbon marker.

For more than a century, Kenneth Grahame's The Wind In the Willows has captivated children with the adventures of Mole, Rat, Toad, and Badger. Join these endearing characters along the riverside and learn lessons in friendship and morality. Children and parents alike will enjoy reading this tale demonstrating the downfalls of greed, the value of camaraderie, the importance of joy, and other positive messages. This charming classic is brought to life with original illustrations by renowned artist Don Daily, posthumously published in Daily's honor. With big personalities, wry humor, amazing artwork, and lovable characters, this gorgeous slipcase edition of The Wind In the Willows will hold a treasured spot on your bookshelf for years to come.
About the Author
---
Kenneth Grahame was born in Scotland in 1859. His best-known story, The Wind in the Willows, began as a series of bedtime stories for his son. It was published in 1908. Grahame died in 1932 but his book lived on. The Wind in the Willows has been adapted for the stage, film, and television, and it has never been out of print.

A native of Trenton, NJ, Donald A. Daily served in the United States Navy for four years before attending Trenton Junior College. He continued his studies with a full Merit Scholarship to Art Center College of Design in Los Angeles and graduated in 1968 with a BFA in Illustration. Moving to Philadelphia, PA, he began his career as a freelance illustrator, represented by New York agents Frank and Jeff Lavaty. Over the next 24 years, he worked on national advertising, motion picture, and editorial accounts. Clients included: TWA, Equitoriana Airlines, Coleco Toys, U. S. Army National Guard, Weyerhauser Paper, Reader's Digest Condensed Books, Spider Magazine, Highlights Magazine, Cosmopolitan Magazine, TV Guide, and the Franklin Library. He created covers for Dell, Fawcett, and Doubleday Publishers, and posters for "The Great Santini", "California Suite", "The Four Seasons", "Roots", and "Cheers". In addition to his illustration work, Don painted private oil portrait commissions and was a Certified Member of the American Portrait Society. He was also an honored member of The New York Society of Illustrators, where his work appeared annually in juried shows. From 1989-1991, Don was an Instructor of Illustration at the University of the Arts in Philadelphia. In 1992, Don began working exclusively on children's books, completing nine books for Philadelphia publisher Running Press and one for Dial Books before his death. Sales of his books currently reach almost 2,000,000 copies, in eight languages.