Our Own Little Paradise (Hardcover)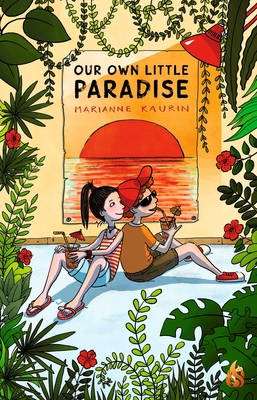 $15.00

Usually Ships in 1-5 Days
Description
---
Could summer in your neighborhood turn out to be better than an exotic holiday overseas? Ina and her new neighbor Vilmer are about to find out…


Ina has no plans for the summer. Suddenly, she finds herself lying in front of the entire class, telling them she is going to the Mediterranean for three weeks. And then the lie keeps growing and growing via social media. The only problem is that the new boy in class has moved to Ina's neighborhood and he will easily find out that she is not in the Mediterranean. Perhaps the best summer holiday is the one you thought would be the worst?

A warm, believable story about friendship, first love, and social media from Norwegian author Marianne Kaurin.


About the Author
---
Marianne Kaurin has earned several literary awards for her books for children and young adults. Her middle grade novel - Our Own Little Paradise (Blue Lagoon Deluxe in Germany) was awarded one of the most prestigious literary prizes in the world, Deutsche Jugendliteraturpreis 2021, Kaurin's debut, the young adult novel Almost Autumn, was awarded The Ministry of Culture First Book Award 2012, Best YA 2012, and the American literary prize The Sydney Taylor Book Award 2018. Marianne Kaurin has studied creative writing and literature at the Norwegian Institute for Children's Books. She works as a children's book editor.

Olivia Lasky is an Oslo-based translator who focuses on Norwegian to English literary translations. Originally from the San Francisco Bay Area, she received an M.A. in Scandinavian Studies from the University of Wisconsin-Madison in 2013, and B.A.s in Scandinavian Studies and English Literature from the University of California-Berkeley in 2010. She was a 2020 mentee in the American Literary Translators Association Emerging Translator Mentorship Program and won the American-Scandinavian Foundation Wigeland Prize for Translation in 2019. Her work has been published by Greystone Books, The Experiment, and Words Without Borders.


Praise For…
---
Absorbing relationship drama with a convincing protagonist.
— Kirkus Reviews

There are 54 days in summer break and Nora (race unspecified, assumed white) needs to fill them all. She's theonly person in her sixth-grade class who isn't planning on going on vacation, so when it comes time to declare her plans, she panics and says she's going to "the tropics" so she can impress the popular kids whose acceptance she is desperate
for. As her lie snowballs into posting fake photos on Instagram and telling her ailing mother she's busy with an imaginary friend, she finds herself gravitating toward Wilmer, the new, equally poor, equally uncool kid in her class. Together, they build their own version of the tropics, but their creation may not be any more stable than a sandcastle in a storm. This is a Norwegian import that translates well for American audiences, though the intense pressure for a nice vacation and the classes Nora's mother takes before getting a job are based in trends that are obvious in Norway, but possibly confusing abroad. Nora narrates in short chapters that help move the story quickly in a way that will benefit developing readers. While its cast of characters is small, it's well crafted, though Nora and her mom are really the only people who grow and change perceptibly. VERDICT A short but sweet novel on struggling with social awkwardness and the importance of
friendship
— School Library Journal