The Newborn Handbook: Your Guide to Bringing Home Baby (Paperback)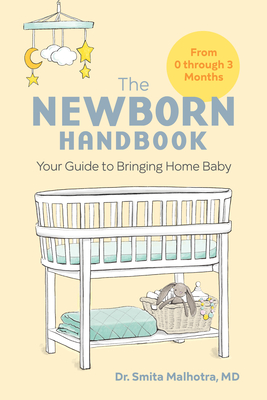 $13.99

Usually Ships in 1-5 Days
Description
---
A practical newborn handbook for the first 3 months of parenthood—from a pediatrician and parent
The old saying "babies don't come with a manual" may be true—but newborn books for first time moms are still a good place to start.
The Newborn Handbook
will gently and sequentially lead you through each week in the first three months of caring for a newborn—weeks that can be both exhilarating and nerve-racking.
From preparing your home for the baby's arrival to both parents' contributions in the stages of early development, this standout in newborn books for first time moms gets you ready for all of the challenging situations to come.
Go beyond other newborn guides with:
Baby steps—Each chapter in this newborn handbook covers your baby's age sequentially so you can intuitively follow along in each growth stage.
All parents included—Get everything you could want from newborn guides with practical and inclusive advice for all parents and caregivers.
Need help?—Helpful references and resources section in the back offer some great additional information.
When it comes to newborn guides, let
The Newborn Handbook
be your "manual" to successfully starting parenthood.
About the Author
---
Dr. Smita Malhotra is a mother and pediatrician who has been caring for children and newborns for more than 10 years. She believes in healing the whole child and family by combining traditional medicine with alternative therapies, such as mindfulness, meditation, acupuncture, and yoga. In addition, she is a writer, and a speaker that has contributed to The Washington Post and other publications.
Praise For…
---
"Finally, a practical parenting book that combines medical expertise and personal experience! Dr. Malhotra's book is inclusive of all families, and reading it makes you feel like she is right there with you, every step of the way. Every family with a younger infant at home—or on the way—should have a copy of Dr. Malhotra's book on their shelf to refer to during those precious first three months." —Dr. Abha Sharma, MD, IBCLC, Board Certified General Pediatrician and Lactation Consultant

"As a pediatrician, I appreciate that the book is informative about caring not only for a newborn in the first three months but also for the parents' emotional health as they begin a new chapter. As a new mom, I love that the book is structured as a simple and easy read." —Danielle Fernandes, MD, Pediatrician

"In addition to being a powerhouse pediatrician, Smita is also a charismatic and relatable mom who understands the struggles of raising a newborn better than almost anyone. Her accessible writing style coupled with tangible advice makes The Newborn Handbook a must-have addition to any new parent's library." —Doyin Richards, Best-Selling Children's Author and Fatherhood Advocate

"Reading this simple guide is like sitting down for tea with your best friend to get the secrets of how to prepare for new parenthood. As an expert pediatrician and mother, Dr. Malhotra's clear advice is easy to read, relieving anxiety about bringing your new baby into the world." —Seetal Cheema, MD, Seetal Cheema Wellness