What to Do When You Feel Like Hitting: A No Hitting Book for Toddlers (Paperback)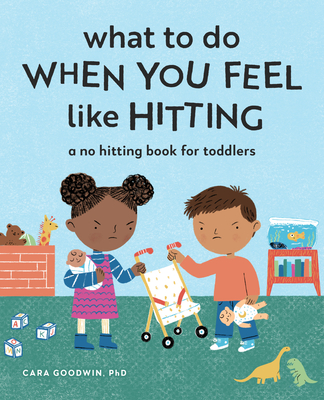 $7.99

Usually Ships in 1-5 Days
Description
---
Teach toddlers safe ways to express big feelings
Toddlers are still learning how to speak, socialize, and understand their emotions. It's common for them to react with their hands when they get frustrated—but hitting is never okay.
What to Do When You Feel Like Hitting
helps toddlers understand why hitting is not allowed and shows them how to react to their feelings with actions that are safe and kind.
This illustrated entry into no hitting books for toddlers features:
Alternatives to hitting—Kids will learn how to use "gentle hands" to squeeze a stuffed animal when they feel upset, scribble a picture to get out their frustration, and practice taking deep breaths to calm down.
A light touch—The language is kid-friendly and positive, encouraging toddlers to understand and communicate their feelings, not just keep their hands to themselves.
Engaging illustrations—Big, beautiful pictures help kids see the ideas in action and keep their attention on the page.
Get the best in no hitting books for toddlers with a storybook that helps them learn empathy and compassion.
About the Author
---
CARA DAMIANO GOODWIN, PhD, is a psychologist and a mother of three. She has spent years researching child psychology and neuroscience, as well as providing therapy for children of all ages. Find out more at ParentingTranslator.com.

KATIE TURNER earned her BFA from Parsons School of Design in New York City and has been an illustrator for more than 10 years. She particularly loves to draw things from nature, such as bugs, flowers, and animals. Katie is also the author and illustrator of The Cat Who Got Framed and the forthcoming Vanilla Bean. She currently lives in Nashville, Tennessee.
Praise For…
---
"As a pediatrician, I am so glad to have a resource with specific advice for toddlers who hit. This book acknowledges hitting is a normal albeit difficult stage and arms children and parents with developmentally appropriate language and strategies to help. Well done!" —Kelly Fradin, MD, FAAP pediatrician, author, and mother of two

"Dr. Cara Goodwin does a beautiful job writing in toddler-friendly language and highlighting all the important points a caregiver should cover when it comes to hitting: feelings and self-regulation skills they can practice. I am happy to add this book to the resources I recommend to parents and caregivers." —Michelle Tangeman, LMFT, BCBA, founder of Thriving Toddler and Michelle Tangeman Behavioral Health

"What to Do When You Feel Like Hitting is a great resource for families. As a parent of two toddlers, I struggle to find the right way to discipline my children when their behaviors are loud and clear, such as hitting. This book is a helpful and approachable resource that parents can use to help instill positive behaviors. Most importantly, I love how inclusive the book is and the priority that is placed on including a diverse group of characters. This is a favorite go-to book in our house as well as a gift I'll be giving to other parents!" —Alex Turnbull, RDN, LD, author of Baby Food Cookbook for First-Time Parents

"This book is beautifully written and illustrated for young children to engage their attention while teaching strategies for self-regulation, a critical skill to last a lifetime. Dr. Goodwin packages years of evidence-based research on promoting positive behaviors in young children into language kids can understand and techniques parents can use at home. A must-have addition to any parent's library." —Emily Edlynn, PhD, clinical psychologist, parenting columnist for Parents.com, and author of The Art and Science of Mom blog

"Dr. Goodwin's book creates a fantastic dialogue for us to teach our children various ways to regulate their emotions, which in turn helps them stop hitting. It is a great addition to a child's bookshelf!" —Cindy Hovington, PhD, founder of Curious Neuron

"Dr. Goodwin has managed to normalize a wide range of children's feelings while offering a diverse range of concrete coping skills, all in child-friendly language. This book is an incredible tool for families to use with their children with big feelings to build resilience and emotion regulation skills. The level of inclusivity and representation in this book is a refreshing inspiration. We highly recommend this book for families, clinicians, and teachers who are helping little ones navigate their big feelings." —Dr. Shanna Alvarez and Dr. Jenna Elgin, psychologists and co-founders of Helping Families Thrive