Battleground Béxar: The 1835 Siege of San Antonio (Hardcover)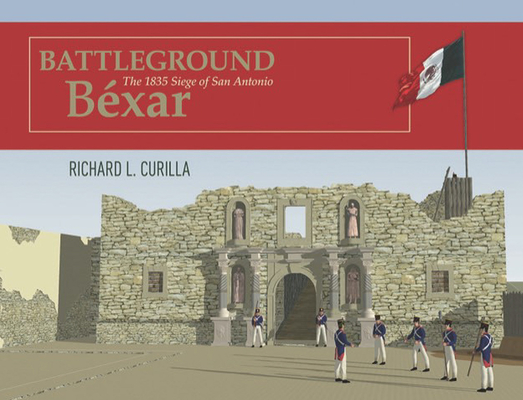 $49.95

Usually Ships in 1-5 Days
Description
---
The famous siege and fall of the Alamo in 1836 is the stuff of legends. What is often missing from most discussion of that battle is why the Texian defenders were in the Alamo in the first place! Richard L. Curilla's pathbreaking book, Battleground Béxar, shows how the famous compound that has become such a Texas icon was just a small piece of the strategic real estate that now composes downtown San Antonio. In 1835, Mexican Centralist soldados faced a deteriorating political situation in the region and the very real threat of an insurgent attack by the Texian Federalist Army of the People. They fortified the main plazas in the frontier town of Béxar to meet the attack they knew must certainly come. Today, where traffic and pedestrians compete for the right of way, once stood cannon, earthworks, and barricades that transformed streets and blocks of downtown San Antonio into a stronghold.
Using advanced computer-generated imaging, Curilla has recreated San Antonio de Béxar as it looked in 1835. Now, for the first time ever, the location of the Alamo and its role as an important garrison and artillery position covering the approaches to the heart of the town is revealed. Mexican Centralist troops reinforced and modified the old mission compound and transformed it into a fortress which they believed they could defend. The Siege of Béxar in December 1835 created the battleground and circumstances that would shape the destiny of Texas forever.

This book made possible in part by a grant from Summerfield G. Roberts Foundation.

 
About the Author
---
RICHARD L. CURILLA is retired from being a show director, entertainer, tour guide and motion picture liaison at Alamo Village, Inc. for more then 20 years. He is a historical consultant and researcher for the Béxar County Parks and Heritage Program. He is an Alamo Society Hall of Fame Inductee "for years of dedication, commitment and excellence in the continuing story of the Alamo" in 2018.