Gunk Baby: A Novel (Paperback)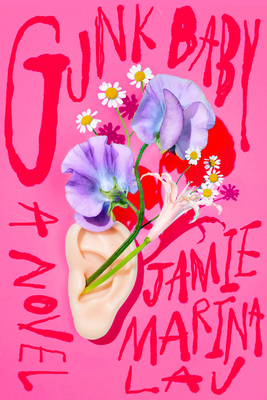 $17.00

Usually Ships in 1-5 Days
Description
---
A New York Times Book Review Editors' Choice

"[Lau's] gift for writing accumulative insanities creates the same dizzying effect as a good cleaning." —Alexandra Tanner, The New York Times Book Review

"A dissociative meditation on a world that has come to feel increasingly meaningless . . . [Lau's] prose combines the languid torpor of Michael Bible with the unease of Yoko Ogawa's more macabre work." ―Declan Fry, The Guardian

A black comedy workplace thriller set in a sprawling indoor shopping mall about a cabal of low-wage workers who plot violent acts of "resistance" against their managers.

In the suburb of Par Mars stand a pair of identical shopping centers, each with the same harsh, fluorescent lights, climate-controlled environment, and monotonous encounters between employees and shoppers.
 
Reviving an ancient Chinese ritual passed down by her mother, twenty-four-year-old Leen has opened an ear-cleaning and massage studio in the Topic Heights Shopping Center. But the social fabric of Par Mars is coming loose, and a quiet unrest is growing among the mall's low-wage workers as store managers begin to fall victim to increasingly brutal and spontaneous attacks. When Leen befriends Jean Paul, a pharmacist enmeshed in a cryptic online community, she finds herself embroiled in a troubling plot to disrupt the routines of the town's banal consumer culture.
 
With fierce intellect, sharp wit, and original prose, Jamie Marina Lau interprets and vividly portrays the everyday violence and toil of contemporary working life. Encapsulating millennial ennui and middle-class boredom, Gunk Baby is an inventive and deliberate novel from a fresh, new, exciting voice.
About the Author
---
Jamie Marina Lau is a twenty-five-year-old multidisciplinary artist and writer. Her debut novel, Pink Mountain on Locust Island, won the 2018 Melbourne Prize Readings Residency Award and was shortlisted for many others. In 2019, She received the title of Sydney Morning Herald's Best Young Australian Novelist. Her writing can also be found in various publications.
Praise For…
---
"A sardonic, Klieg-lit tale of consumerism and capitalism gone awry."
—Gregory Cowles, A New York Times Book Review Editors' Choice

"[Lau's] gift for writing accumulative insanities creates the same dizzying effect as a good cleaning." —Alexandra Tanner, The New York Times Book Review

"Lau delivers an astute narrative . . . an exposé of and warning to a society on the verge of failing its young adults. Lau herself is of that very generation, making her sharp, shrewd observations about discontent and disconnect more immediately caustic, as well as—ironically—more reliably empathetic."
—Terry Hong, Shelf Awareness

"Funny, bold, capacious . . . this book mirrors modern life."
—Kirkus Reviews

"Lau makes . . . good points about consumerism and ably captures the mood of disenchanted youth . . . [She] has plenty of talent."
—Publishers Weekly

"A dissociative meditation on a world that has come to feel increasingly meaningless, Lau's second novel harks back to an older era of Australian fiction . . . her prose combines the languid torpor of Michael Bible with the unease of Yoko Ogawa's more macabre work . . . She reminds us of the adventurousness that once saw local writers and directors win both sales and critical acclaim . . . Their spirits are sorely missing from the landscape today. Lau is to be commended for keeping them alive."
―Declan Fry, The Guardian

"Taking aim at consumerism, class and orientalism, Gunk Baby is an original and unforgettable read."
―Cosmopolitan

"The viscerality of violence in Lau's world expands and contracts between banal and horrific; oppression and resistance while denying us the purgative resolution we are so attached to . . . Gunk Baby explores the cruel optimism of enacting personal revenge for a structural issue."
—Taylor Mitchell, Kill Your Darlings

"Jamie Marina Lau's style is captivating—you're drawn into the stagnant world of this Australian suburbia, and everything seems bizarre and off in a way that makes you feel constantly uncomfortable."
―Prudence Wade, The Independent

"A book like this—that doesn't take the expected route, that gambles on a quiet and potentially difficult-to-access protagonist—is a gift . . . Lau's strength as an author shines in this space she has carved out for herself . . . Gunk Baby, despite its surreal aura, exposes power structures and daily violence in a way that will make you think about the real world a little deeper."
―Elizabeth Flux, The Monthly Magazine

"What a novel—as it is formally defined—should be: novel. Lau's talent is in excavating the psyche of her characters and their environments . . . Gunk Baby is the artistic equivalent of an ongoing disintegration, an experimental critique of the absurdities of consumer culture."
―Cher Tan, The Saturday Paper

"A disorienting and sinister consumerist dystopia. Gunk Baby is the blackest sort of satire on post-industrial anomie, though it has a sharp sense of intellectual playfulness too . . . Fans of Bret Easton Ellis, J.G. Ballard or Chuck Palahniuk's Fight Club will lap up the affectless nihilism of Lau's vision: it reopens a peculiar vein of postmodern darkness that seemed to have all but collapsed in Australian fiction."
―Cameron Woodhead, Sydney Morning Herald

"The poison of capitalism and consumerism seeps through the pages of Gunk Baby so subtly that the reader barely notices until they are drowning in it . . . A writer of the zeitgeist, Lau uses a distinctly 'online' voice that speaks to the disconnect of the present generation and to the bleak, capital-driven path humanity took to get there. An audacious, nihilistic novel."
―Giselle Au-Nhien Nguyen, Australia Book Review

"A tender horror story, all the more haunting for being so familiar, Gunk Baby captures the plight of the body—its fragility, its need for connection—in a world of surveillance and synthetic calm. Lau's voice is cool, precise yet unfailingly human, taking aim at mall culture, work culture and consumer culture, and revealing them as excuses we whisper to ourselves as we lurch slowly towards a luxurious void."
—Roisin Kiberd, author of The Disconnect

"A new, detuned world, globalized but specific, casually weird, Jamie Marina Lau's sensibility is elliptical and it is unique; here is a new existence among the malls of instant consumerism."
—Alan Warner, author of Their Lips Talk of Mischief