The Case of the Missing Bicycles: Ready-to-Read Graphics Level 3 (Judge Kim and the Kids' Court) (Paperback)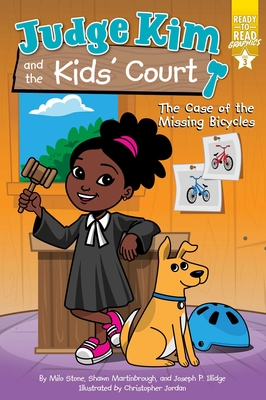 $6.99

Usually Ships in 1-5 Days
Description
---
The treehouse court is now in session in this first book in the Judge Kim and the Kids' Court Level 3 Ready-to-Read Graphics series about a young judge who presides over conflict of all sizes in her neighborhood!

When bicycles go missing at Fairville Elementary School, it's up to Kim Webster to settle the case. Up in her treehouse court, Judge Kim listens to witnesses and evidence gathered by her friends before determining what's fair and what's not. Will Judge Kim be able to restore peace to her neighborhood?

Ready-to-Read Graphics books give readers the perfect introduction to the graphic novel format with easy-to-follow panels, speech bubbles with accessible vocabulary, and sequential storytelling that is spot-on for beginning readers. There's even a how-to guide for reading graphic novels at the beginning of each book.
About the Author
---
Milo Stone is an award-winning filmmaker and videogame and toy designer who also loves to write fun, compelling stories for kids. He is the cowriter of Judge Kim and the Kids' Court, the smart and highly entertaining series that introduces kids to the law, problem solving, and learning to think outside the box. When he's not writing or creating new things, he's probably at a pizzeria getting a slice.

Shawn Martinbrough is the author of How to Draw Noir Comics: The Art and Technique of Visual Storytelling and an Eisner Award–nominated artist whose projects include Batman: Detective Comics, Luke Cage Noir, The Black Panther: The Man Without Fear, Hellboy, and Thief of Thieves, the graphic novel series cocreated with Robert Kirkman. He is the writer of Red Hood & The Hill for DC Comics, which introduces multiple new characters to the Batman Universe. Shawn is writing and illustrating his first creator-owned graphic novel and is the artist of an upcoming children's book with award-winning, New York Times bestselling author Derrick D. Barnes.

Joseph P. Illidge started his career at Milestone Media, Inc., the groundbreaking publisher of diverse and inclusive superhero books and creators of the animated series Static Shock. Joseph was the first editor of color for the Batman and Batgirl books at DC Comics, and has written for DC Comics, Milestone Media, and Humanoids Publishing. His latest graphic novel is MPLS Sound, about a fictional 80s Minneapolis funk band led by a Black woman to become the next band for legendary musician Prince. As an editor, writer, and public speaker, Joseph has worked with the Harlem School of the Arts, the Apollo Theater, and John Jay College of Criminal Justice to mentor young people on the art and power of comic books.

Christopher Jordan enjoys sushi, burritos, and collecting Japanese Sofubi. He's done silly drawings and designs for companies like Disney, Fisher-Price, Allure, Walmart, Gap, Banana Republic, Old Navy, Nike, Aeropostale, Cartoon Network, Time Warner, and DC Entertainment. But most of all he loves his mom.