Tris: 2. Vipers' Nest (Hardcover)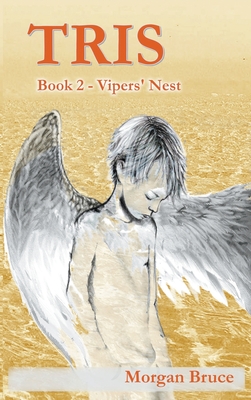 $34.50

Usually Ships in 1-5 Days
Description
---
Tris: 2. Vipers' Nest
by Morgan Bruce
The second installment of the intriguing new sequel to the Alexei, Accidental Angel series,
aka
"The Angel heptalogy"
Having survived the ordeal of being taken over by Ahaitan - an angel who has turned evil - Tris tries to start living on the island with his new parents. The exorcism that was necessary to remove Ahaitan's influence has left him with no memory of events beyond the plane crash that killed his parents.
Not remembering any of the hurt he caused while under Ahaitan's influence, Tris is puzzled as to why he is suddenly being treated as an outcast by some on the island, to the extent that none of the other children are allowed to have him as a friend.
The unexpected chance to help an old school friend inevitably reacquaints him with his past, and the misguided actions of a manipulative uncle who runs an American church group. This leads Tris to not only realise why he is being ostracised, but also gives him a path to redemption.
copyright (c)] 2021
Auckland, New Zealand
(About the Author)
Morgan Bruce has lived his entire life in Auckland, New Zealand. A retired music teacher, the grandfather of four has written 12 books. "As a musician, I have been on stage since the age of 9 - as part of an 'Everly Bros.' style duo - and started, as a bass player, in my first band at the age of 12, only ceasing that activity when I turned 55. Besides bass, I play guitar, keyboards, flute, and saxophone (therefore, music figures strongly in most of my writing)."