Sky's End (Above the Black) (Hardcover)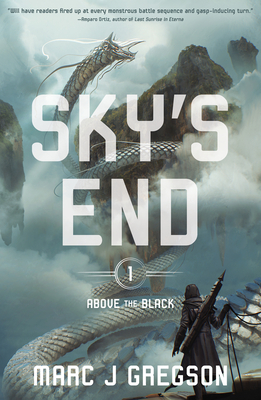 $18.99

Coming Soon - Available for Pre-Order Now
Description
---
Plummet into a kill-or-be-killed competition where a scrappy underdog hell-bent on revenge must claw his way to the top in this thrilling YA fantasy debut

Exiled to live as a Low, sixteen-year-old Conrad refuses to become heir to his murderous uncle. But Meritocracy is a harsh and unforgiving rule on the floating island of Holmstead, and when his ailing mother is killed by monstrous gorgantauns, Conrad cuts a deal to save the only family he has left. To rescue his sister from his uncle's clutches, Conrad must enter the Selection of the Twelve Trades.

Hunter, the deadliest of all the Trades, gains a fresh recruit with Conrad. Now he must endure vigorous training, manipulative peers, and the Gauntlet—a brutal final test that yields riches and status to whichever skyship crew kills the most gorgantauns. Forced to serve in the lowest of stations and unseen by all, Conrad overhears whispers of rebellion in the dark. Conrad had never known anything existed below the toxic black clouds of the Skylands . . . until now.

Grab your copy of Book One of the Above the Black trilogy today! This fast-paced series is reminiscent of Attack on Titan and will appeal to fans of Pierce Brown. It's a great pick for those who love action-adventure.
About the Author
---
Marc J Gregson attended the University of Utah, where he graduated cum laude and received his bachelor of arts in English teaching. Marc's pursuit of learning has led him into the classroom, where he teaches middle school English. He believes in the power of words and that stories can unite people from all origins. Sky's End is his first novel for teens.
Praise For…
---
★  "This debut YA fantasy has an intricate class-based dystopia, teeth-clenching and gory battle scenes, complex and well-developed characters with constantly evolving relationships, found family, loyalty, and a hint of romance. First in an upcoming trilogy, this book is highly recommended to readers who love fantasy and dystopia."—Booklist, Starred Review

★ "A thrilling and brilliantly realized series opener; readers will clamor for the next installment." —Kirkus Reviews, Starred Review

"Mutinous machinations and improbable alliances distinguish this rousing trilogy opener, and snarky banter and sophisticated character arcs lend dimension to the intersectionally diverse cast."—Publishers Weekly