When Marriage Needs an Answer: The Decision to Fix Your Struggling Marriage or Leave Without Regret (Paperback)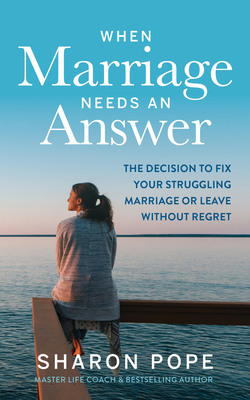 $14.95

Usually Ships in 1-5 Days
Description
---
If you knew how to make the relationship better, you would have done that years ago. That doesn't mean there aren't real answers to the issues in your marriage and real answers on how to move forward whether that's with or without your spouse. Every marriage struggles occasionally. But sometimes the struggles begin to feel insurmountable and we begin to think the only answer is to make the heartbreaking and painful decision to leave. The distance between the two of you widens, the resentments mount, and you feel like you've tried everything to make it better, but nothing ever changes. The biggest questions of our lives rarely have simple, easy answers. And trying to determine whether the problems in the marriage can be fixed or if the only answer is to lovingly release it is arguably one of the scariest and most important decisions you will ever make.

Through this book, you will:
• Know if hope exists for your struggling marriage or if the answer is to lovingly release it.
• Learn why you're feeling stuck and what to do instead.
•Understand why you're having the same arguments and how to interrupt these same recurring painful patterns in the relationship.
About the Author
---
Sharon Pope is a certified Master Life Coach and Six-Time #1 International Best-Selling Author on love and relationships. She is the relationship coach for when you are struggling in a lonely and disconnected marriage, seeking confidence and clarity so you can either fix your marriage or move forward without regret.