Michael McGillicuddy and the Most Amazing Race (Paperback)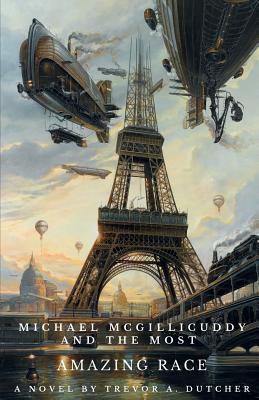 $15.99

Usually Ships in 1-5 Days
Description
---
Puzzling Intrigue. Epic Adventure. Cut-throat competition.

When introverted gadgeteer, Michael McGillicuddy, is invited to participate in the annual race organized by a secret society called the Order of the Blue Cloak, he forces himself to take the chance.

The action-packed adventure that follows features a vibrant cast of characters, including some of the brightest minds and most unscrupulous characters 1895 Europe has to offer, including a Luxembourgish railroad baron, a middle-eastern mystic, a British female spy and a Dutch female alchemist. A devious circus ringmaster, and his equally devious crew, including a strong-man with a mechanical arm, and a ruthless female enforcer with a chip on her shoulder and a penchant for poison, provide the main antagonistic forces.

Follow the racers over land, sea and air, from London's outskirts to Paris, as they risk life and limb to embark on a scavenger hunt-style race with few, but important, rules. The winner of this year's race will be the first to solve all the milestone challenges and arrive at the finish with a complete and matching set of milestone tokens. Along the way, Michael will encounter intellectual challenges, physical peril, fantastical creatures, games you've never heard of, sabotage, betrayal, heartbreak, and even a touch of magic, all while discovering himself and a newfound taste for adventure.

But as a novice among veterans, and with the odds so heavily weighed against him, how will Michael survive, let alone compete?