In Defiance: Iryllian Invasion (Paperback)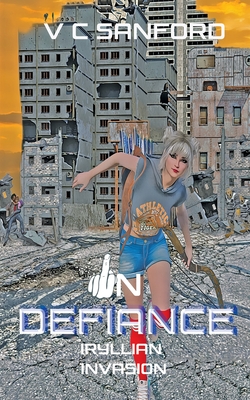 $16.99

Usually Ships in 1-5 Days
Description
---
What would you do if everyone you knew was dead?
High School had never prepared Erika for the End of the World.
The Aliens may have won the battle, but she would ensure they didn't win the war.
If she could just get her roller skates off...
After Earth is invaded by a technologically advanced race from the Illyrian star system, and life as Erika knew it is changed, she joins with a rag tag group of survivors to come up with an unexpected plan to save humanity. This action packed post-apocalyptic tale contains no virus or zombies, however it does include an assortment of unusual aliens and a group of colorful humans that don't understand they were supposed to give up. The book is written for everyday readers that are looking for a solid story, a hint or two of romance, assorted twists and turns, and a slew of unexpected surprises. Great for readers of all ages this fast paced adventure is filled with gritty battles, teenage angst, and enough reality to make you think it could happen to you. The unique characters never give up attitude will resonate with the hero in us all.