Big Words Small Stories: The Missing Donut (Hardcover)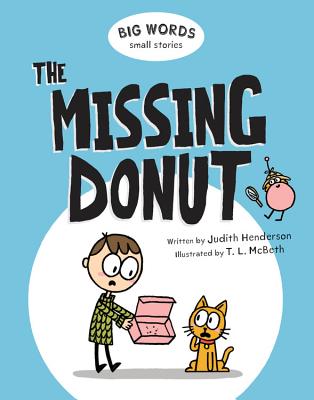 $12.99
Email or call for price.
Description
---
Here's a collection of short stories with a twist. The five stories all feature the misadventures of a boy named Cris, who "likes things all in a row," and his cat, Crat, who "likes to mix things up." Running within each of these lighthearted stories is another story, this one about the Sprinkle Fairy, owner of a word factory in Sicily, "where the best words in the world come from." The Sprinkle Fairy has a team of helpers, called the Sprinklers, who have slipped one of her big words (like, discombobulated) into each of the small stories. Luckily, the Sprinklers provide warnings right before the big words appear ("Big word coming!") and include their pronunciations and meanings afterward. Then, a bonus story at the end --- "A Small Play on Big Words" --- uses all the big words together. Judith Henderson has created an innovative approach to an early reader that involves children in simple, fun-to-read stories, while using a clever, playful device to enrich their vocabularies at the same time. The quirky stories are funny, with storylines that build on each other. The appealing blend of deadpan and slapstick humor in the text is paired with multiple spot illustrations by T. L. McBeth on every page. The tone and accessibility are pitch-perfect for emerging readers. This title is part of a three-book series --- each book with its own character duo, but all starring the Sprinkle Fairy and her Sprinklers.
About the Author
---
Judith Henderson is an Emmy Award-winning children's TV composer and producer. The Missing Donut is her first children's book. Judith lives in Montreal, Quebec.
T. L. MCBETH is the illustrator of Stegothesaurus and the Big Words Small Stories series. His work has been displayed at the Society of Illustrators. He lives in New York City.
Praise For…
---
A HUMDINGER for budding wordplay fans.—Booklist

... a beautifully written and skillfully illustrated book which will help young readers build their vocabulary ...—CM Magazine

... a strong choice for emerging readers and will appeal to male and female readers!—Resource Links