Plague Garden (Hallowed Knights #1) (Paperback)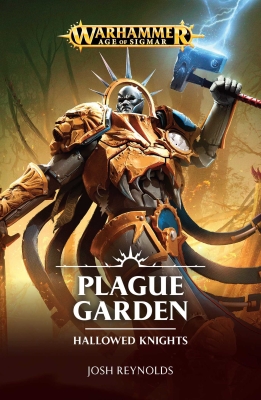 $16.00
Email or call for price.
Description
---
The Stormcast Eternals of the Hallowed Knights must brave Nurgles's Realm of Decay if they are to find their lost leader, Lord-Castellant Lorrus Grymn.

As the war for the Realm of Life continues, Lord-Castellant Lorrus Grymn leads the battered remnants of the Steel Souls warrior chamber against the sargasso-citadels of the Verdant Bay. The Hallowed Knights claim victory, but at a terrible cost - Grymn is lost to the Realm of Chaos. Now Gardus, newly reforged and fresh from the destruction of the Scabrous Sprawl, must lead his warriors into the foetid heart of Nurgle's realm in search of the Lord-Castellant, where they must once more brave the horrors of the Realm of Decay...
About the Author
---
Josh Reynolds' extensive Black Library back catalogue includes the Horus Heresy Primarchs novel Fulgrim: The Palatine Phoenix, and three Horus Heresy audio dramas featuring the Blackshields. His Warhammer 40,000 work includes the Space Marine Conquests novel Apocalypse, Lukas the Trickster and the Fabius Bile novels. He has written many stories set in the Age of Sigmar, including the novels Shadespire: The Mirrored City, Soul Wars, Eight Lamentations: Spear of Shadows, the Hallowed Knights novels Plague Garden and Black Pyramid, and Nagash: The Undying King. He has written the Warhammer Horror novel Dark Harvest, and novella The Beast in the Trenches, featured in the portmanteau novel The Wicked and the Damned. He has recently penned the Necromunda novel Kal Jerico: Sinner's Bounty. He lives and works in Sheffield.