Watchers of the Throne: The Emperor's Legion (Paperback)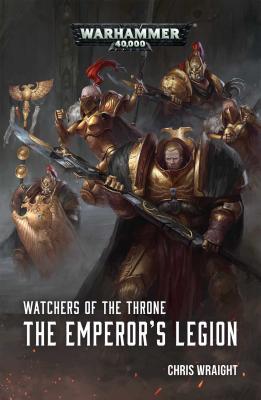 Description
---
The Adeptus Custodes are the Emperor's praetorian guard, the defenders of Terra and watchers over the Golden Throne. But when a threat arises, they and their Sisters of Silence allies may find themselves pressed almost beyond endurance…

The Custodian Guard have stood watch over the Emperor's Palace on Terra since the foundation of the Imperium. Charged with protecting the Master of Mankind from all threats, within and without, their fearsome resolve is renowned throughout the galaxy, and their golden armour is the last thing that a would-be assassin or saboteur will ever see. Alongside the Null-maidens of the Sisters of Silence, who are anathema to psykers and sorcerers alike, there is no threat to the Golden Throne that they alone cannot vanquish... until now.
About the Author
---
Chris Wraight is the author of the Horus Heresy novels Scars and The Path of Heaven, the Primarchs novel Leman Russ: The Great Wolf, the novellas Brotherhood of the Storm and Wolf King, and the audio drama The Sigillite. For Warhammer 40,000 he has written Vaults of Terra: The Carrion Throne, Watchers of the Throne: The Emperor's Legion, the Space Wolves novels Blood of Asaheim and Stormcaller, and the short story collection Wolves of Fenris, as well as the Space Marine Battles novels Wrath of Iron and War of the Fang. Additionally, he has many Warhammer novels to his name, including the Time of Legends novel Master of Dragons, which forms part of the War of Vengeance series. Chris lives and works near Bristol, in south-west England.