Boy oh Boy: From boys to men, be inspired by 30 coming-of-age stories of sportsmen, artists, politicians, educators and scientists (Hardcover)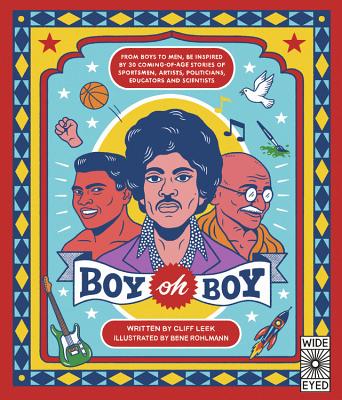 $22.99
Usually Ships in 1-5 Days
About the Author
---
Dr Cliff Leek is an Assistant Professor of Sociology at the University of Northern Colorado and President of the American Men's Studies Association. He writes, speaks, and consults on issues of masculinity, whiteness, workplace inequalities, violence, and activism.
Bene Rohlmann is an illustrator based in Berlin, Germany. His clients include: The New York Times, GQ Magazine, Facebook, Google, Variety, Rolling Stone, Architectural Review and Converse.
Praise For…
---
"This volume puts a positive spin on adage "boys will be boys" by introducing 30 male public figures whose talents and accomplishments have earned them notoriety and admiration. The subjects—among them Ta-Nehisi Coates, Nelson Mandela, and Freddie Mercury—represent a broad spectrum of professions, eras, and backgrounds. Rohlmann creates portraits of each subject in a bold graphic style reminiscent of artful posters. Writing in a casual tone with candid detail, Leek includes a full page of biographical information for each individual (though the order in which the figures are presented feels haphazard). In an era when toxic masculinity is at the forefront of public discourse, this text provides a more expansive view of what people can aspire to be."
- Publishers Weekly
—
-