Chronicles of Malus Darkblade: Volume One (Warhammer Chronicles) (Paperback)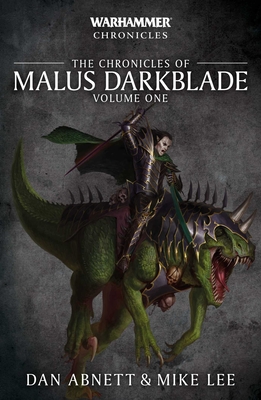 $18.00
Email or call for price.
Description
---
Murderer, betrayer, warrior beyond compare. Explore the story of Malus Darkblade in this great value omnibus!

The dark elves are feared throughout the Old World for their evil ways, yet one member of this despicable race stands out for his treachery and cunning - Malus Darkblade. Having been possessed by an ancient daemon, the dark elf is faced with a stark choice - recover five items of unimaginable power or forfeit his soul forever!
About the Author
---
Dan Abnett has written over fifty novels, including Anarch, the latest instalment in the acclaimed Gaunt's Ghosts series. He has also written the Ravenor and Eisenhorn books, the most recent of which is The Magos. For the Horus Heresy, he is the author of Horus Rising, Legion, The Unremembered Empire, Know No Fear and Prospero Burns, the last two of which were both New York Times bestsellers. He also scripted Macragge's Honour, the first Horus Heresy graphic novel, as well as numerous Black Library audio dramas. Many of his short stories have been collected into the volume Lord of the Dark Millennium. He lives and works in Maidstone, Kent.