Rub Dub Dub Thanks for the Grub: Notebook (Paperback)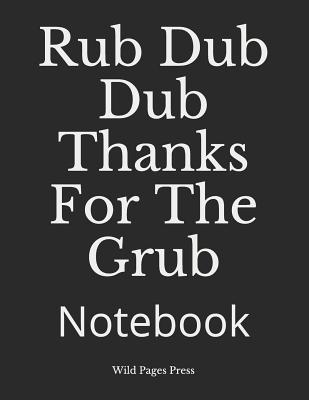 $7.50
Email or call for price.
Description
---
Notebook Large Size 8.5 x 11 Ruled 150 Pages Softcover. Wild Pages Press are creators of unique notebooks and journals. If there is a particular notebook or journal subject you are after we can make it for you to order and list it for sale on amazon. We have a huge range of designs currently available, more than 16,000 available on a huge range of subjects. Simply search Wild Pages Press and the subject you are after, for example Wild Pages Press Butterflies and you will see heaps of amazing butterfly notebooks, journals, composition books, and more. Perfectly spaced between lines to allow plenty of room to write. Wild Pages Press are publishers of unique notebooks, journals, school exercise books, college or university lecture pads, memo books and travel journals that are a little bit quirky and different. Stunning covers, sturdy for everyday use. Great quality, we offer thousands of different designs to choose from. Our quality products make amazing gifts perfect for any special occasion or for a bit of luxury for everyday use. Our products are so versatile, they come in a wide range, be it the perfect notebook, travel companion, or a stylish lecture pad for college or university, cool composition book for school, comprehensive notebook for work, or as a journal, the perfect family heirloom to be treasured for years to come. Our quality products are made in the USA and competitively priced so they can be enjoyed by everyone.