Recipe for Disaster: 40 Superstar Stories of Sustenance and Survival (Hardcover)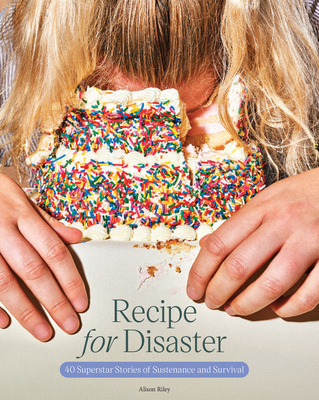 $27.95

Usually Ships in 1-5 Days
Description
---
Recipe for Disaster is a collection of stories and recipes—from a veritable who's who from the worlds of food, music, art, literature, activism, fashion, and pop culture—about finding comfort in food, surviving the unthinkable, and living to tell about both.
Discover how getting dumped led to author Samantha Irby's Rejection Chicken. Comedian Sarah Silverman tells of the power of the humble Pinwheel cookie that got her through bouts of crippling childhood depression. Culinary legend Alice Waters reflects on how a perfectly dressed salad has carried her and her chosen family through loneliness and uncertainty. Here are forty recipes—some traditional, some unconventional—that commemorate the low points with the same culinary conviction with which we celebrate the highs. Part cookbook, part candid confessions, this book of good food for bad times reminds us that even the worst of days yield something worth sharing.  
INTERSECTIONAL FEAST OF PERSPECTIVES: This book of tales of truly comforting food features a highly diverse, all-star who's who from the worlds of music, food, art, literature, performance, activism, and pop culture.
ALL-STAR CONTRIBUTORS: Storytellers include Samantha Irby, Alice Waters, Bowen Yang, Michael W. Twitty, Cey Adams, Chelsea Peretti, Simon Doonan, Meshell Ndegeocello, Brian Lehrer, Gabrielle Hamilton, Becca Blackwell, Jacqueline Woodson, Sarah Silverman, Raul Lopez, Thundercat, and many more.
UNIQUE AND ENGAGING: Featuring funny, heartbreaking, bittersweet, but always relatable essays and interviews that inspire recognition and laughter, accompanied by inspirational (and sometimes unconventional) recipes, with evocative photography that upends traditional cookbook styles. 
HUMOR IS HEALING: This book reminds us of the value of our experiences, good and bad, and their capacity to bring levity and purpose to the moments we need them most. 
Recipe for Disaster
was conceived through the deeply held belief that there is humor, liberation, and universal truth to be found through the exchange of these stories.
Perfect for:
Arts and pop-culture aficionados
Foodies and followers of celebrity chefs
Quirky/gorgeous gift for birthday, anniversary, holiday, or any special occasion that celebrates life, love, and the power of food
A unique resource for home cooks and browsable keepsake for readers seeking diverse, funny, and inspiring books
Readers of Humans of New York: Stories, Cherry Bombe, Anthony Bourdain, and every juicy celebrity tell-all they can get their hands on
About the Author
---
Alison Riley is a writer and creative director based in Brooklyn and Hudson, NY. She is also the founder of the paper and text studio Set Editions. Originally from Cambridge, MA, she moved to New York City to study creative writing at Barnard College and has spent the last twenty-five years working inside brands and businesses and as consigliere to creators of all kinds, from musicians to art directors, and writers to fashion designers. This is her first book.