Written in the Stars (MP3 CD)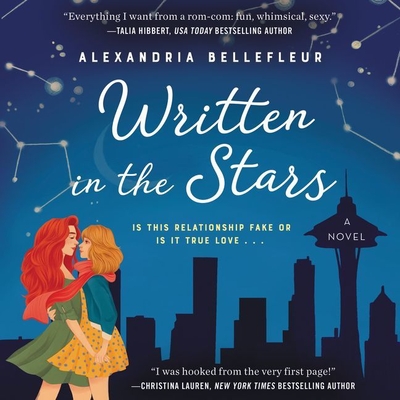 $39.99
Email or call for price.
Staff Reviews
---
Take two opposites: Elle, a bright, optimistic social media astrologer and Darcy, a cynical, no-nonsense insurance actuary. Elle is avidly looking for her soulmate, while Darcy, who has been badly burned by love, doesn't know if she believes in soulmates anymore. Add a disastrous first date, a meddling brother, a disapproving family dynamic, and a fake dating plot. And what do you have? All the makings of a really amusing love story. This is my favorite of the series, an easy delightful read!
— Zinna
November 2020 Indie Next List
---
"This fake-dating, opposites-attract romance is simply perfect. A social media astrologer is set up with her new business partner's actuary sister. While the date goes terribly, how helpful it would be for both of them to have a date for certain upcoming events. The two leads are wonderful, flawed women with their own baggage and hang-ups (hello, family drama!), and it's a joy to watch them fall in love with each other in spite of everything."
— Lexi Beach, The Astoria Bookshop, Astoria, NY
Description
---
I was hooked from the very first page " - Christina Lauren, New York Times bestselling author of In a Holidaze
An Indie Next and Library Reads Pick
With nods to Bridget Jones and Pride & Prejudice, this debut is a delightful #ownvoices queer rom-com about a free-spirited social media astrologer who agrees to fake a relationship with an uptight actuary until New Year's Eve--with results not even the stars could predict
After a disastrous blind date, Darcy Lowell is desperate to stop her well-meaning brother from playing matchmaker ever again. Love--and the inevitable heartbreak--is the last thing she wants. So she fibs and says her latest set up was a success. Darcy doesn't expect her lie to bite her in the ass.
Elle Jones, one of the astrologers behind the popular Twitter account Oh My Stars, dreams of finding her soul mate. But she knows it is most assuredly not Darcy... a no-nonsense stick-in-the-mud, who is way too analytical, punctual, and skeptical for someone as free-spirited as Elle. When Darcy's brother--and Elle's new business partner--expresses how happy he is that they hit it off, Elle is baffled. Was Darcy on the same date? Because... awkward.
Darcy begs Elle to play along and she agrees to pretend they're dating. But with a few conditions: Darcy must help Elle navigate her own overbearing family during the holidays and their arrangement expires on New Year's Eve. The last thing they expect is to develop real feelings during a faux relationship. But maybe opposites can attract when true love is written in the stars?
Everything I want from a rom-com: fun, whimsical, sexy. - Talia Hibbert, USA Today bestselling author of Get a Life, Chloe Brown