A Ring on the Night Bell (Paperback)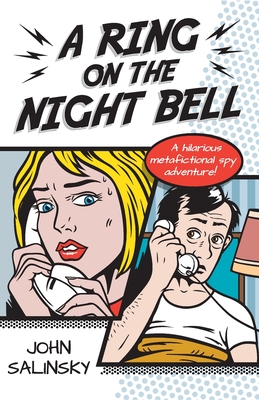 $14.99

Usually Ships in 1-5 Days
Description
---
You (Desmond) are woken in your hotel room by the bedside phone ringing at 2 a.m. A damsel in distress is calling you from the room immediately above. She begs you to come and rescue her at once as two men are about to attack her.
The damsel, who is young, blonde and beautiful, explains that she is an MI5 agent and her assailants (who are identical twins) are employees of a foreign power in search of a mysterious brief case, known as 'The McGonagall.'
You suddenly find yourself in dangerous world full of spies, threats, glamour and betrayal. You are knocked senseless in a Soho nightclub and wake up in a rat- infested cellar. You are threatened with torture by the twins but rescued by a retired Colonel. After a number of other adventures, including a boxing match with dogs, everyone gets decorations and Frank, the writer, rewards you and your damsel with a glamorous society wedding and a working honeymoon on the Moon. As the plot develops, you keep complaining to the writer about the way you are treated. The Readers Group also give the writer a hard time with their critical comments.
Night Bell is a hilarious metafictional spy adventure in which 'you' play the leading role