Improve Your Social Skills: The Guidebook to Increase Success in Business & Relationships, Talk To Anyone Using Effective Public and Practicing Mi (Paperback)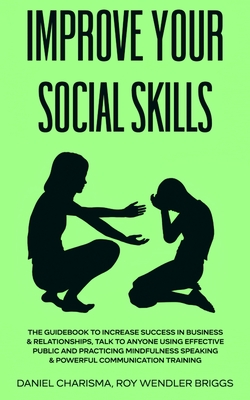 $21.99

Usually Ships in 1-5 Days
Description
---
Learn the ways to improve your social skills and present yourself in style, in just a short read
Do you want to learn the skills to begin seamless conversations with anyone?
Do you want to feel confident when giving presentations in your office?
Do you want to impress everyone with your public speaking skills?
Do you want to become a fun person to talk to?
Good social skills can help you become a charmer you have always aspired to be. Want to know the ways to good social skills, Read More...
Most people are never able to perform better in their lives or learn something well because they cannot muster the courage to come forward or ask something in front of others. They lose the chance to do well in their lives simply because they don't want to stand out.
Have you ever curbed your urge to talk to someone due to the fear of rejection?
Have you ever felt that you could have given some presentations better than others only if you didn't have to face all those people?
Have you not felt weak while speaking in front of a group of people, although you knew everything?
Have you felt your stomach making funny noises even at the thought of performing in public?
Do you know that all these are signs of poor social skills, and you can overcome them if you want?
If you want to know the process to do so, Read More...
There is a wide misconception in people that social skill improvement is only for a certain class. People don't pay attention that social skills are essential for everyone. We are social animals, and living without proper social skills is living without a necessary tool.
This book will help you in understanding the basics of social skills and step by step tutorials for improving various social skill sets. It will guide you in enhancing your confidence, conversation skills, and public speaking skills.
In this book, you will find:
A thorough understanding of the fears and anxieties coming in the way of your confidence building
Impact of such fears on your relationships and business
Impact of poor social skills on your overall personality development
Basic confidence-building measures
Ways to understand the mind and overcome the obstacles
Ways to begin conversations
Measures to break the silence
Ways to not only begin conversations but also have deeper and meaningful conversations
Simple ways to get recognition and respect in group conversations
Tips to appear more convincing and knowledgeable
Measures to gain confidence for group conversations
Techniques to develop a deeper understanding of verbal as well and non-verbal communication
Ways to become more self-aware and confident
Overcoming the anxieties created by overthinking with the help of meditation
Ways to strengthen your friendships and relationships
Techniques to make new friends and increase your social circle
A deeper understanding of the way's relationships flourish and the ways to overcome hurdles
Ways to open up to the world without any fear and inhibition
And Much More.........