Iconites Air Fryer Oven Cookbook 2021 (Paperback)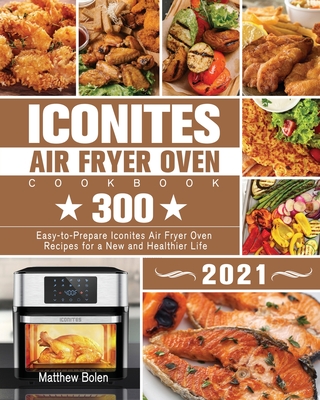 $19.97

Usually Ships in 1-5 Days
Description
---
300 Easy-to-Prepare Iconites Air Fryer Oven Recipes for a New and Healthier Life
Iconites Air Fryer Oven is an amazing tool to save time in cooking delicious meals that usually take hours to make with traditional ways. However, sometimes we get bored preparing the same meals every day.
In this Iconites Air Fryer Oven Cookbook 2021, you'll learn how to cook the most affordable, quick & easy recipes.
It covers everything you want to try with your Iconites smart oven. It contains the following categories:
Tons of Appetizers & Side Dishes
Lots of Poultry and Red Meat recipes
Great variety of Vegetarian and Vegan meals
Fish & Seafood choices
Tasty Breakfasts & Effortless Desserts
Staple Recipes
And much more
Get a copy of this great Iconites Air Fryer Oven Cookbook 2021 and enjoy your life once and for all.