Dutch Oven Cookbook: 400+ Foolproof Recipes Your Family and Friends Will Love, Designed for the Most Versatile Pot in Your Kitchen (Paperback)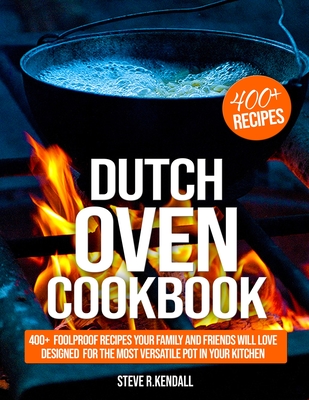 $34.95
Email or call for price.
Description
---
Do you want to surprise your family members or guests with a tasteful epic adventure?
Ever wanted to eat healthy and delicious meals while enjoying the beauty of nature?
Your Customers Will Never Stop to Use this Awesome Cookbook
A dutch oven can do so much more than you think Why not take a shortcut and enjoy cooking with your dutch oven with the ease of a seasoned chef?
The Dutch oven has a history almost as colorful as the iconic, stunning piece of cookware itself. The Dutch oven is a real workhorse, it is no surprise that it has been around since the 1700s, and it's has lasted for so long because you can make so many culinary and cooking wonders using just this iconic pot. This means you need to use only one pot for the entire cooking process
Is this not wonderful and interesting?
The ultimate camping cookbook using dutch oven for preparing beef, pork, lamb, poultry, ham, fish, seafood, and other foods. If you are planning to go to the wilderness and go camping for a few days or an RV trip for more than just a few days, then you need to be smart about what you are bringing with you. The things you bring should be compact enough and also able to fulfil your desires and do their job properly. The same goes for kitchen equipment. No trip will be fun if you're lugging pots and pans around. That is why you need versatile equipment that can be used for multiple tasks and also can fit in the back of your car.
With this book, you will discover:
The most amazing features of the Dutch Oven, and how to get the most out of it
Care guide to preparing, seasoning, cleaning, drying and storing your Dutch Oven
Cooking tips and tools for the best Dutch Oven cooking experience
A great variety of quick and tasty recipes, including:
Wholesome Breakfast recipes
Mouthwatering Poultry, Beef, Pork and Lamb recipes
Soups and Stews
Fish and Seafood
Vegetarian and side dishes
Even if you are a complete beginner at cooking, with the detailed information included in this book you will be able to delight your camping guests on every occasion.
What are you waiting for?
Buy it NOW and let your customers get addicted to this amazing book