The Complete Comfee' Air Fryer Toaster Oven Cookbook: 550 Delicious and Easy Air Fryer Recipes (Hardcover)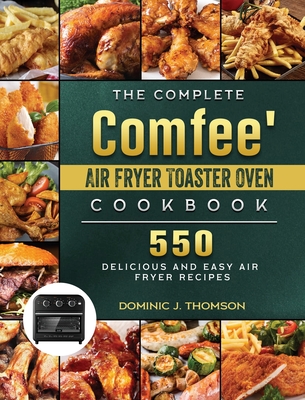 $26.99
Email or call for price.
Description
---
This book will teach you how to create a variety of healthy, easy-to-make, delicious COMFEE'Air Fryer Toaster Oven recipes in the easiest way possible.
We don't have to struggle anymore with the question: "We have no idea what to eat...What do we cook for breakfast or for dinner tonight?"
You will have mouth-watering delicious recipes, you can make everything, there's nothing you can't cook.
This book covers:
Easy to find ingredients: use ingredients at your hand
Quick and easy air fryer recipes:many only take 30 minutes and only need 5 ingredients
Budget 550 Delicious and Easy Air Fryer Recipes: save money and spend less time in kitchen
Estimated cooking temperatures/times guide for vegetables, meats, and frozen foods
Helpful tips: tips on how to make air fried food healthy and crispy
Making great cooking choices has never been easier Get a copy of this COMFEE' Air Fryer Toaster Oven Recipes for the fast and healthy meals