Trekking The Giants' Trail: Through the Italian Pennine Alps: Atla Via 1 - Beneath Mont Blac, the Matterhorn and Monte Rose (Paperback)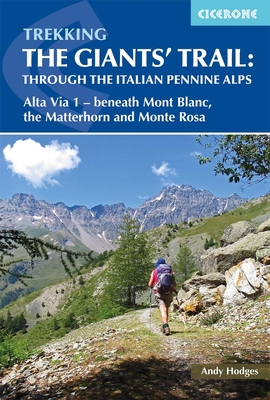 $27.95
Email or call for price.
Description
---
Italy's Alta Via 1, a 180km hiking trail through the Italian Alps following the northern flank of the Aosta Valley, boasts magnificent views of the Alpine giants: Mont Blanc, the Matterhorn, the Grand Combin and Monte Rosa. Indeed, it is sometimes known as the Giants' Trail and can be combined with a sister-route, the Alta Via 2 (covered in a separate Cicerone guide), which runs along the southern flank of the valley, to form the Tor des Geants. Stretching from Donnas to Courmayeur, the Alta Via 1 offers fantastic alpine walking, with welcoming refuges and small hotels providing overnight accommodation (and great food) along the way. The guide presents the route in two sections, for the advantage of those who can't spare the full fortnight-plus needed to walk the entire AV1. The trail is described in 16 stages, with alternative stages covering some popular variants, including an optional detour to visit the famed monastery at the Great St Bernard Pass. Each stage includes clear route description and mapping, plus notes on local points of interest and accommodation options. An alternative itinerary, list of useful contacts, kitlist and glossary can be found in the appendices.
About the Author
---
Andy Hodges was born and bred in Northern England and developed his early mountain skills with the local Scout group in the Lake District and Snowdonia. Since discovering the joys of the Alps with a Cicerone guidebook in 1999, Andy and his wife Sue have explored much of the Western Alps, walking, running, cycling, ski touring and snowshoeing. Since the late 1980s Andy has enjoyed leading others in the mountains and worked as a hillwalking leader before joining the teaching profession. With 25 years' service in Dartmoor Search and Rescue Andy has vast experience of the moors. He is Team Manager for his wife's school's Ten Tors teams and recently completed the in-depth training and assessments to become a qualified International Mountain Leader. When not in school, Andy is likely to be found in the Western Alps, on Dartmoor or in the mountains of Britain.