What's Right for Me?: Making Good Choices in Relationships (Boys Town Teens and Relationships #3) (Paperback)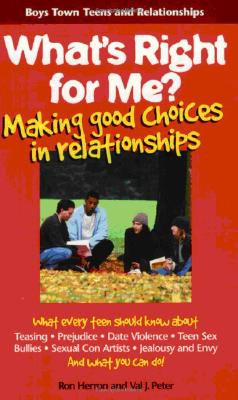 Other Books in Series
This is book number 3 in the Boys Town Teens and Relationships series.
Description
---
Temptation, Threats
Have you ever been threatened by a bully, tempted to make fun of someone who's different from you and your friends, or talked into doing something you knew was wrong? Did you know how to handle these situations or others where you were challenged by negative influences or people?
Many teens face these problems every day. This book can help you identify and prepare for such situations, give you strategies for dealing with them, and show you where to go for help in times of difficulty or doubt.
What You Can Do
You'll read stories of teens caught up in relationships that have spun out of control. You'll learn what you can do in similar situations, such as:
-- Set physical and emotional boundaries that make you feel comfortable and keep you safe.
-- Stop cruel teasing or avoid the attention of a bully.
-- Recognize prejudice and learn what you can do to stop it.
-- Stay in control even when you feel angry.
-- End a relationship that turns violent or possessive.
-- Handle friends who try to pressure you into doing something you don't want to do.
-- Recognize when you're being "conned" into a sexual relationship you aren't ready for and don't want.
What's Right for Me? will help you make good choices and take responsibility for your own behavior and future success.