Alaska Trees and Shrubs (Paperback)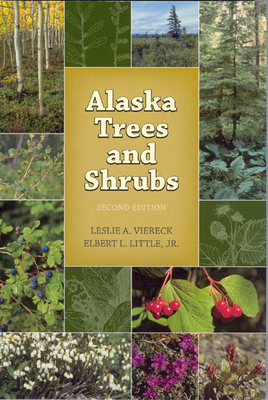 $24.95

Usually Ships in 1-5 Days
Description
---
Alaska Trees and Shrubs has been the definitive work on the woody plants of Alaska for more than three decades. This new, completely revised second edition provides updated information on habitat, as well as detailed descriptions of every tree or shrub species in the state. New distribution maps reflect the latest survey data, while the keys, glossary, and appendix on non-native plants make this the most useful guide to Alaska trees and shrubs ever published.

About the Author
---
Leslie A Viereck retired as principal plant ecologist from the U.S. Forest Service's Institute of Northern Forestry in Fairbanks in 1996. Since then he has been an emeritus scientist with the Boreal Ecology Cooperative Research Unit (BECRU) at the University of Alaska Fairbanks.

He also holds an Affiliate Professor of Forest Ecology position in the School of Natural Resources and Agricultural Sciences (SNRAS) at UAF, as well as research associate appointments with the Institute of Arctic Biology and the University of Alaska Museum of the North.

Elbert L. Little, Jr., died in 2004 after a distinguished career as senior scientist and chief dendrologist with the U.S. Forest Service in Washington, D.C. He was an authority on both North American and tropical trees. Among his more than twenty books on trees are the five-volume Atlas of United States Trees (1981) and the popular Audubon Field Guide to North American Trees. Dr. Little was coauthor of the 1950 edition of the Pocket Guide to Alaska Trees and made several extended field trips to Alaska during the preparation of Alaska Trees and Shrubs.