The Historic Shops & Restaurants of Boston: A Guide to Century-Old Establishments in the City and Surrounding Towns (Hardcover)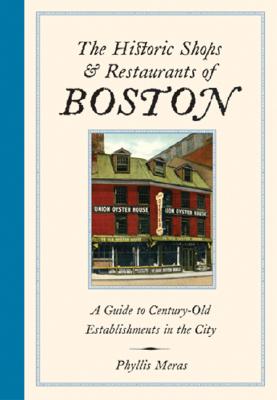 Description
---
Weathervanes, clocks, paintings, cigars, candy, and nautical instruments are but a few of the goods still being provided to Bostonians by the city's historic shops. Many of these purveyors date from the nineteenth century–some as far back as Colonial days.

The city is filled with pubs, taverns, and restaurants dating back more than a century, too. You'll still find Ye Olde Union Oyster House on Union Street. In 1771, on the eve of the American Revolution, the seditious publication, The Massachusetts Spy, was printed upstairs. Later, the orator Daniel Webster would down as many as three dozen oysters at the mahogany bar, still in use, and wash them down with tumblers of brandy and water.

If you want to feel like a Boston Brahmin, have your hair cut at La Flamme Barber Shop (1898), furnished with the original mirrors set in mahogany frames, turn-of-the-century lighting, and marble counters. Or, have your grandmother's copy of The Boston Cooking School Cook Book rebound at a historic bindery that once made a slipcase to protect Charles Dickens's nightcap. Upper crust Bostonians have been buying jewelry from Shreve, Crump, and Low since it first opened in 1796–across the street from a silversmith named Paul Revere.

Over in Cambridge, poke through thousands of items of vintage clothing at a second-hand emporium where well-heeled Harvard students–Teddy Roosevelt, FDR, and John F. Kennedy among them–have been known to exchange their clothes for a little extra pocket money.

And don't forget the Swan Boats in the Boston Public Garden–they've been delighting children of all ages since 1870.
About the Author
---
Phyllis Meras, for many years the travel editor of the Providence Journal, has a long acquaintance with Boston, both from her days as a student at Wellesley College and later, as editor of its alumnae magazine. She has written about Boston for many publications and is the author of fourteen books. She is a year-round resident of Martha's Vineyard.
Praise For…
---
"A handful of local bookstores and bookbinders are among the dozens of century-old shops and establishments chronicled in a new pocket-size guide. The Historic Shops and Restaurants of Boston, by Phyllis Méras (Little Bookroom), addresses both colorful beginnings–from a silversmith-turned-flute-maker to a factory that made hardtack for the Union Army–and enduring longevity." –The Boston Globe

"This is a very charming book indeed...Neat!" --The Providence Journal

In this "handsome little book...Author Phyllis Meras covers not only Boston proper but also outlying towns and includes hardware stores, barbershops, bookshops (including the Brattle Book Shop, believed to be the oldest continuously operated antiquarian bookshop in the country), clothing and general stores (Filene's Basement was founded in 1909), fishmongers, grocers, jewelers, bakeries, art galleries and musical instrument makers. Well-known cultural landmarks are also featured, such as Longfellow's Wayside Inn in Sudbury and the Omni Parker House, the oldest continuously operating hotel in the nation." --The Chicago Tribune

"This little guide to century-old businesses in the Greater Boston area packs a practical and historical punch. If you're an architecture buff, you can use it to scope out old buildings. A shopper can use it to find companies known for their longevity. The foodie can discover long-enjoyed restaurants to add a taste of the past to the repast...[E]xperience the city in a way most residents don't." --Cape Cod Times