Mayo Clinic Guide to Your Baby's First Years: 2nd Edition Revised and Updated (Paperback)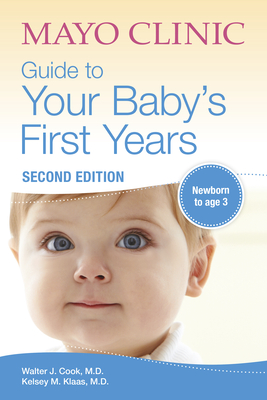 $24.95

Usually Ships in 1-5 Days
Description
---
Not every parenting journey looks alike. In this best-selling reference guide, the parents and childcare experts at Mayo Clinic offer a trusted manual on expected—and not so expected—developments that can occur during your baby's first years.

Updated and Revised 2nd edition.

While new and experienced parents alike find that every baby brings its own set of challenges, the Mayo Clinic Guide to Your Baby's First Years offers informative guidance on standard childcare practices, like proper nutrition, indoor and outdoor safety, diapers and toilet training, comforting a fussy baby, and more.

However, more dilemmas face modern-day parents than ever before. This revised reference guide also gives essential—and actually attainable—advice for a new generation of parents, one that faces challenges like single parenthood, work-life balance, delayed child growth and development, and the potential diagnosis of autism spectrum disorder and other newborn conditions.

Mayo Clinic Guide to Your Baby's First Years combines everything you need to know about your baby's first three years in an easy-to-read, convenient guide you can keep and reference throughout every stage of your child's first years. With a detailed, month-to-month calendar, learn what to expect of your baby's growth and development during the first 36 months of its life, and what steps you can take to ensure a foundation of healthy growth and development.

While there is no built-in instruction manual for raising a child, Mayo Clinic Guide to Your Baby's First Years offers expert advice on everything you may need to know about caring for your little one.
About the Author
---
Walter Cook, MD, is an award-winning pediatrician and Assistant Professor of Pediatrics at the Mayo Clinic's College of Medicine in Rochester, Minnesota, where he focuses on community pediatric and adolescent medicine research. He is the present course director for Mayo Clinic Pediatric Days, Mayo Clinic Summer Pediatric Review, and the Rochester-Mayo Clinic T. Denny Sanford Pediatric Symposium. As a father of three, including twins, Dr. Cook has placed a special emphasis on providing exceptional care for thousands of infants and children for more than 25 years, and has been recognized as a Best Doctor in America by Minneapolis/St. Paul Business Journal.



Kelsey Klaas, MD, is a pediatrician in the division of General Pediatric and Adolescent Medicine at Mayo Clinic Children's Center in Rochester, Minnesota. She currently serves as the associate pediatric clerkship director for the Mayo Clinic Alix School of Medicine and as an advisor for the Mayo Medical School Advisory Program. Dr. Klaas's practice focuses on children with complex health conditions, like dysautonomia, POTS, neurodevelopmental disorders, and types of genetic disorders. She lives in Rochester, Minnesota with her husband and two young children.