Do Walk: Navigate earth, mind and body. Step by step. (Paperback)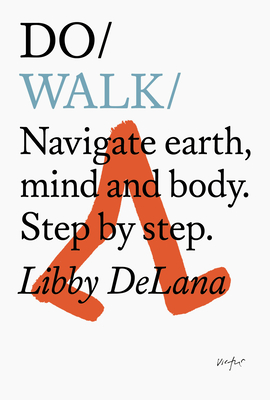 $14.95

Usually Ships in 1-5 Days
Description
---
One morning in 2011, Libby DeLana stepped outside her New England home for a walk. She did the same thing the next day, and the next. It became a daily habit that has culminated in her walking over 25,000 miles – the equivalent of the earth's circumference.

In Do Walk, Libby shares the transformative nature of this simple yet powerful practice. She reveals how walking each day provides the time and space to reconnect with the world around us; process thoughts; improve our physical wellbeing; and unlock creativity. It is the ultimate navigational tool that helps us to see who we are – beyond titles and labels, and where we want to go.

With stunning photography, this inspiring and reflective guide is an invitation to step outside, and see where the path takes us.
About the Author
---
Libby DeLana is an award-winning creative director, an advocate for female leadership, mom to two tall boys, aspiring pilot, rookie fly fisher and kombucha jedi. Libby's work has featured in publications including D&AD, Fast Company, and she has been profiled on the BBC R4 series The Chain. She is very committed to purpose-driven organizations and is currently on the Board of Directors for BlinkNow and The Jeanne Geiger Crises Centre. Do Walk is her first book publication.
Praise For…
---
"An illuminating book that powerfully conveys a simple truth: that putting one foot in front of the other is a transformative act. DeLana writes with insight, heart, and wit about love, loss, work, creativity and the mysteries of being human. Do Walk is a moving and wise book about one woman's path toward enlightenment, that also tells a story about all of us." - Cheryl Strayed, international bestselling author of Wild
,


"Who knew that a daily walk could be a transformational experience? Libby DeLana shares her inspiring stories and best practice in this special book. So much of the wisdom in Do Walk has stayed with me long after finishing it." - Cheryl Richardson, NYT bestselling author of Take Time for Your Life,


"Do Walk is a refreshing reminder that daily exercise isn't so much about sweat and exertion as it is about commitment and exploration of nature and of self. DeLana's evocative prose allows us to walk next to her. This book helped me examine parts of my life but, more than anything, it made me want to lace up and head outside." - Charlie Engle, endurance runner and author,