There Once Was A Man With Six Wives: A Right Royal History in Limericks (Hardcover)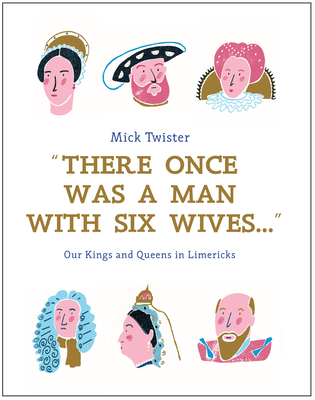 $14.95
Email or call for price.
Description
---
There once was a man with six wives
Of varying sexual drives.
When each bore no heir
He would have an affair
And divorce them or else take their lives.

He did world history inThere Was an Old Geezer Called Caesar, and now he's tackling a subject dear to all our hearts—British kings and queens. They're all in here, from Alfred the Great to England's future king, little Prince George. Mick's entertaining limericks are paired with exquisite illustrations by Hannah Warren, making the book the perfect gift package.
About the Author
---
Mick Twister is a television journalist in international news, and a cryptic crossword compiler. Since inventing the @twitmerick in May 2011, he has been tweeting the news in daily limericks. Twitmericks have been reproduced by the Washington Post and the New Statesman. He is the author of There Was an Old Geezer Called Ceasar. Hannah Warren is an illustrator whose clients include Phaidon, Thames and Hudson, TEDTalks, Herman Miller, and Ogilvy and Mather .