Charlotte and the Quiet Place (Hardcover)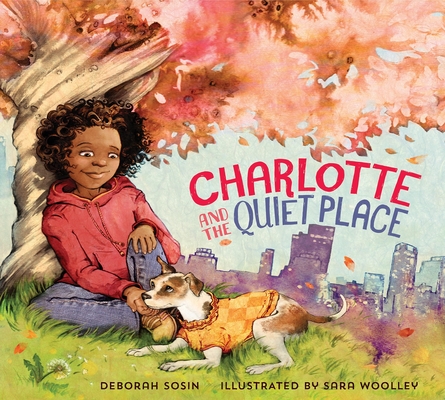 $16.95
Email or call for price.
Description
---
2015 INDIEFAB Book of the Year Gold Award Winner!
2016 Independent Publisher Book Awards Silver Medalist!
2015 National Parenting Publications Bronze Award Winner!

Charlotte likes quiet. But wherever Charlotte goes, she is surrounded by noise, noise, noise—her yipping dog, Otto; the squeaky, creaky swings; the warbling, wailing sirens. Even in the library, children yammer and yell. Where can Charlotte find a quiet place? Sara Woolley's magnificent watercolors bring Charlotte's city to life when Otto leads her on a wild chase through the park. There, Charlotte discovers a quiet place where she never would have imagined!

Sometimes children need a break from our noisy, over-stimulating world.Charlotte and the Quiet Place shows how a child learns and practices mindful breathing on her own and experiences the beauty of silence. All children will relate to the unfolding adventure and message of self-discovery and empowerment. Parents, teachers, and caretakers of highly active or sensitive children will find this story especially useful.
About the Author
---
Deborah Sosin is a writer, editor, and clinical social worker specializing in mindfulness-based psychotherapy. She holds an MSW from Smith College School for Social Work and an MFA from Lesley University. Her essays have appeared in the Boston Globe Magazine, the Chicken Soup for the Soul series, and in numerous other publications. She teaches at GrubStreet in Boston and offers "Write It Like It Is" workshops. She lives in a quiet apartment outside of Boston, Massachusetts, with her very quiet cats, Sophia and Sascha. This is her first book.

Sara Woolley is an award-winning illustrator and visual artist living and working in Brooklyn, New York. In addition to creating captivating watercolor illustrations and graphics for books, Woolley has designed costume pieces, puppets, and props for stage and film. She currently teaches at the Academy of Art University, where she earned her MFA.