Dragons and Marshmallows (Zoey and Sassafras #1) (Paperback)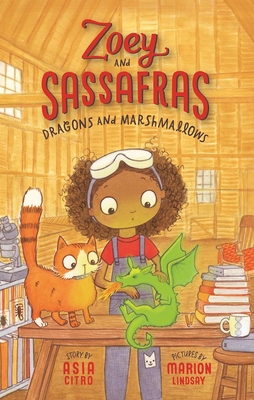 Other Books in Series
This is book number 1 in the Zoey and Sassafras series.
Description
---
A New York Public Library Best Books for Kids 2017 Selection
A Mighty Girl Book of the Year
Illinois Monarch Award Nominee 2018-2019
Florida SSYRA Book Award Nominee 2018-2019
Washington OTTER Award Nominee 2018-2019
With magical animals, science, mystery, and adventure -- the brand new series Zoey and Sassafras has something for everyone Easy-to-read language and illustrations on nearly every page make this series perfect for a wide range of ages.
In the first book of this series, Zoey discovers a glowing photo and learns an amazing secret. Injured magical animals come to their backyard barn for help When a sick baby dragon appears, it's up to Zoey and Sassafras to figure out what's wrong. Will they be able to help little Marshmallow before it's too late?
Each story in the Zoey and Sassafras series features a new magical animal with a problem that must be solved using science. There isn't a set formula for each book; Zoey sometimes needs to run experiments, while other times she needs to investigate a mystery, and yet other times she needs to do research. Zoey models how to keep a science journal through her handwritten entries in each story. Each story is complete with a glossary of the kid-friendly definitions for scientific terms used. The series highlights child-led inquiry science and the topics covered align with both Common Core and Next Generation Science Standards.
About the Author
---
Asia Citro, M. Ed, is a former classroom science teacher with a Master's in Science Education. She is the author of 150+ Screen-Free Activities for Kids, The Curious Kid's Science Book, A Little Bit of Dirt, and the Zoey and Sassafras chapter book series. She is also the creator of the popular blog Fun at Home with Kids. Her work has been featured on Apartment Therapy, The Chicago Tribune, Today, Disney Baby, MSN, King 5 TV, and Highlights, among others.