Managing Time: The Inmate's Guide To Serving Time Productively (Paperback)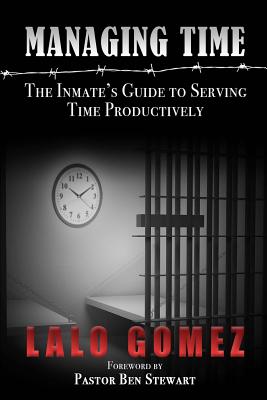 $14.95
Email or call for price.
Description
---
Having spent twenty-four years of his life incarcerated-sixteen of which he served productively-Lalo has earned the right to write about this neglected issue, which he uniquely refers to as "managing time."
He decided to write about this issue not because he knows more about serving time than anyone else, but because he learned how to master the application of time management in a correctional setting by committing himself to doing it. Now he is able to reapply these principles in society-where one must guard their time zealously-and avoid contributing to the recidivism rate, by not reoffending.
The principles that Lalo shares throughout this book are practical and are meant to encourage and equip you to serve time productively during your incarceration, and also prepare you to manage time productively once you are released. If this is your goal, then this book is for you.
In this book you will discover how to manage time in each of these (5) key areas:
- Spirit - Soul - Body - Money - Social.
About the Author
---
Lalo Gomez was born in Puerto Rico and moved to Chicago with his family at the age of one. He joined a gang at age twelve and by age fifteen was heavily-involved in a destructive lifestyle of gang banging, drug trafficking, and boosting cars for a multi-million dollar auto theft ring. For the next three years, gang life is all he lived and breathed. At age eighteen, he had a son and decided to change course, but by then it was too late, his past had already caught up to him. Less than two years later, Lalo was arrested and eventually convicted of his role in several gang-related crimes. The consequences of Lalo's destructive lifestyle resulted in a prison term of 48-years (the prosecutors asked for life without parole) of which he served twenty-four years. During that time he experienced the harsh and oftentimes violent world of prison life up close and personal. After grossly mismanaging the first eight years of his prison term, Lalo chose to put gang life behind him. Not one to commit to anything half-heartedly, he set out to manage time and serve the remainder of his sentence as productively as one can in the correctional setting. By the grace of God, he was able to achieve that goal. This book serves as evidence that turning a negative into a positive is achievable for those who commit themselves to change, whether incarcerated or not. Lalo was released from prison in 2008 and has since made a successful transition in society by following the principles he writes about in this book. Because of this, he has proved that ex-offenders can make a successful transition in society and help to reduce the recidivism rate if they prepare themselves during their incarceration by serving (managing) their time productively. His God-given purpose in life is to encourage and equip incarcerated men and women to serve their time productively so that when they are released, they will be prepared to make their reentry in society, avoid reoffending, and be able to fulfill their God-given purpose in life. Lalo's interests include writing, business and sports, and he is an active member of his local church. Lalo has an Associate's Degree in General Education from Illinois Central College and is Managing Partner and Co-Founder of PFL Solutions, a business that provides publishing and information technology services.