Betrayed by Rita Hayworth (Paperback)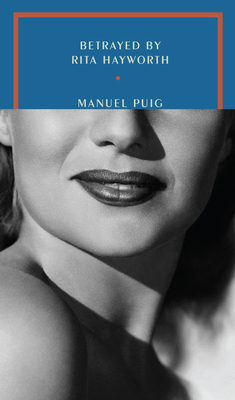 $18.00
Email or call for price.
Description
---
Manuel Puig's "dazzling and wholly original debut" (New York Times Book Review) is a startling anatomy of a small town in thrall to its own petty lusts, betrayals, scandals, thefts, and gossip--but most of all, to the movies.

When it appeared in 1968, Manuel Puig's debut—a portrait of the artist as a child in small-town Argentina—was hailed as revolutionary. Borrowing from the language of "true romance" and movie magazines, the techniques of American modernism, and Hollywood montage, Puig created an exuberant queer aesthetic while also celebrating the secret lives of women.

Hanging on the conversations of his mother, friends, and neighbors, Puig's stand-in Toto pieces together stories as full of passion, desire, and revenge as anything dreamed up for the silver screen. "A screamingly funny book, with scenes of such utter bathos that only a student of final reels such as Puig could possibly have verbally recreated for us" (Alexander Coleman, New York Times), it is also a bittersweet love letter to the golden age of Hollywood.
About the Author
---
Born in a small town in the Argentine pampas, Manuel Puig (1932–1990) read philosophy at the University of Buenos Aires before winning a scholarship to study film direction at Cinecittà Studios in Rome. Exiled from Argentina, he settled in New York City in 1963. His 1976 novel Kiss of the Spider Woman was filmed in 1985 by the Argentine-Brazilian director Héctor Babenco, thereafter becoming a Broadway musical in 1993. Puig's novels have been translated into fourteen languages.

Suzanne Jill Levine is an acclaimed translator of Latin American literature. She is the author of Manuel Puig and the Spider Woman: His Life and Fictions and The Subversive Scribe: Translating Latin American Fiction. Her editions include the Penguin Paperback Classics series of Jorge Luis Borges's essays and poetry.
Praise For…
---
"A masterpiece . . . Betrayed by Rita Hayworth is a triumph . . . Puig does camp it up in a fabulous way, full of literary allure, magnetic glower, smoldering good looks and plenty of plain panache and strut . . . A screamingly funny book . . . His characters turn out to be contemporary proto-Bovarys and proto-Quixotes, all pouring their heart out in prose you haven't seen since last leafing through a pulp movie magazine or True Romances. En fin, a dazzling and wholly original debut by Senor Puig, who obviously loves us madly; and a hand too for the translator, Suzanne Jill Levine, whose transfigurations of infantile Americanese deserve all praise.
— Alexander Coleman

"An intimate look at the maids, stifled housewives, and would-be gangsters living on the outskirts of Buenos Aires during the country's period of political transformation from 1933 to 1948 . . . Luminous . . . A pop art classic."
— Publishers Weekly

"For many people—and certainly for Puig as a boy in small-town Argentina—the first and most absorbing form of storytelling is gossip: tales (almost always told by women) about romances and breakups, scandals and humiliations. There is an endless fascination in parsing other people's lives, comparing them to ours, rendering judgment and imagining how our own lives might be judged. In Betrayed by Rita Hayworth, Puig captures the human inclination to peer and weigh and compare, while taking advantage of that same inclination in his readers . . . [It is] perhaps his most lyrical novel."
— Natasha Wimmer

"An insidiously successful portrait of minds marking time . . . scrupulously faithful to its theme of mental desolation: distant enough from it to ensure near-perfect stylistic control; but close enough, in spite of all the parody, to lock us firmly into these scenes from the provincial mind."
— Michael Wood

"David Foster Wallace once wrote that Manuel Puig 'could make dialogue do anything.' In his debut novel, Betrayed by Rita Hayworth, Puig writes about a small Argentinian town in the 1930s and '40s: its secrets, its gossip, its scandals . . . Puig takes you eavesdropping through this small town, beginning with a whirlwind of unattributed dialogue."
— Kathleen Creedon