East Winds: A Global Quest to Reckon with Marriage (Hardcover)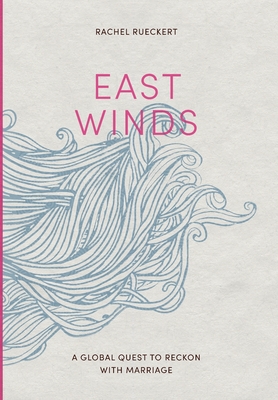 $34.99

Usually Ships in 1-5 Days
Description
---
Rachel panicked as she lay awake on the first night of her year-long honeymoon-a backpacking trip around the world. Though young and in love, she wasn't sure she actually believed in marriage, let alone the lofty Mormon ideal of eternal marriage. This unconventional honeymoon felt like a brief reprieve from the crushing expectations for a Mormon bride. But this trip also offered opportunities: the chance to study wedding traditions in other cultures and the space to confront what marriage-including her own-meant to her.
Along the way, she got kicked out of Peru, escaped rabid dogs in the Amazon, stumbled upon democracy protests in Hong Kong, launched an unlucky lantern in Thailand, and trekked five hundred miles across Spain in sandals. These experiences helped Rachel confront her tumultuous past, question her inherited relationship models, and embrace her restless nature within marriage-exchanging faith in certainty for faith in the day-to-day choice of partnership and faith in herself.
"In East Winds, Rachel Rueckert journeys around the world and into the heart of a marriage, asking how we can truly know our partner, ourselves, and the truth of our bond. Exploring communities in Asia, South America and Europe as well as excavating her own Mormon roots, Rueckert's warm, frank voice takes the reader across oceans and generations, examining how love, family, connection and commitment are reflected in and through culture. A fascinating travelogue and a charmingly bumpy love story, East Winds is an ultimately joyous struggle for identity as and with a partner that many women will recognize within themselves." -Allison K Williams, author of Seven Drafts
About the Author
---
Rachel Rueckert is a writer, editor, teacher, and a seventh- generation Utahn. She holds an MFA from Columbia University, an M.Ed from Boston University, and serves as the editor in chief of Exponent II. To learn more about her and her work, visit rachelrueckert.com or linktr.ee/rachelrueckert.
Praise For…
---
Is it an ethnography, a travelogue, a memoir, a love story, or a true confession? Whatever its genre, it is funny, inciteful, poetic, and engaging. A delightful read!
—Laurel Thatcher Ulrich, PhD, Pulitzer Prize winner & author of Well-behaved Women Seldom Make History


Trouble abounds in this brave, stirring, engaging memoir, but the protagonist proves equal to every bit of it, thanks to her self-awareness and pluck. A travel account that takes us deep into the author's inner life and spiritual struggles while delivering vividly detailed accounts of the lands she explores, this satisfying record of the growth of a self should please readers of every type. It certainly pleased me.
—Phillip Lopate, PhD, American essayist & editor of The Art of the Personal Essay


Thoroughly smart and clear-eyed. East Winds invites the reader to question their assumptions. Rueckert asks unique questions that resonate on a universal level.
—Gary Shteyngart, author of Little Failure


Rachel Rueckert's East Winds is outstanding. A captivating reflection on love and faith found in unexpected places, it's a chronicle of the early days of marriage. Rueckert is a writer to watch. In lovely, candid prose, she shares intimate insights about partnership and the connections that exist because of it. I could not put it down.
—Wendy S. Walters, PhD, Nonfiction Director at Columbia University & author of Multiply/Divide


The engine that drives this delightful memoir is the rash condition the author puts on her fiancé: immediately after marrying, they must embark on a low-budget, one-year-long honeymoon around the world. This would strain any relationship to the breaking point, but Rueckert and her husband triumph in surprising and moving ways. Both are socially progressive Mormons; they rebel against their faith without rejecting it. By turns comical and serious, this passionate, searchful book will speak especially to readers who grapple with the cultural pressure to marry and the taboo of divorce. In strange, far-off cities and miserable hotels, Rueckert investigates this conundrum with a restless and insightful mind. The writing is filled with funny, shivery, illuminated moments. East Winds brims with intelligence.
—Michael Greenberg, author of Hurry Down Sunshine


In East Winds, Rachel Rueckert journeys around the world and into the heart of a marriage, asking how we can truly know our partner, ourselves, and the truth of our bond. Exploring communities in Asia, South America and Europe as well as excavating her own Mormon roots, Rueckert's warm, frank voice takes the reader across oceans and generations, examining how love, family, connection and commitment are reflected in and through culture. A fascinating travelogue and a charmingly bumpy love story, East Winds is an ultimately joyous struggle for identity as and with a partner that many women will recognize within themselves.
—Allison K Williams, author of Seven Drafts