Supremely Wrong: The Injustice of Abortion (Paperback)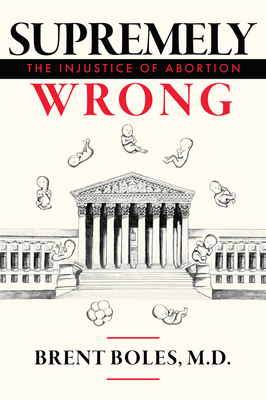 $15.99
Email or call for price.
Description
---
UNDERSTAND THE BIG ISSUE DIVIDING OUR NATION "Every political fight will eventually be an abortion fight," stated The Daily Beast in 2017. Gallup polls confirm that abortion rights versus the right to life remains the most contentious debate in American society. Shouldn't we discard the talking points and examine why it all matters? In SUPREMELY WRONG, Dr. Brent Boles provides an insider's survey of the issues at stake. From helping his patients left mistreated by the abortion industry, to testifying before state legislators, firsthand accounts from this practicing OB/GYN reveal injustice at large in America. Dr. Boles opens the leading embryology textbooks to show what science says about when life begins. He exposes how the silence of the church and two-faced politicians have contributed to the national loss of nearly one million babies in the womb annually. He even shares transparently of his own pain and regret, which today fuels a life-saving mission. Applying principles of medical ethics to challenge popular pro-choice rhetoric, SUPREMELY WRONG advances the national dialogue on life issues with surprising stories and accessible logic. It's more than research that resounds with truth. It's a call to action.
About the Author
---
C. Brent Boles, M.D. has been practicing medicine for two decades as an OB/GYN. A board-certified physician, he graduated from the University of Louisville School of Medicine. In addition to his medical practice, Dr. Boles currently serves as medical director for a local pregnancy help center. He and his wife Julie live in Murfreesboro, Tennessee. They are parents of four children and now enjoy being grandparents of four (and counting.)