Radical Curiosity: One Man's Search for Cosmic Magic and a Purposeful Life (Paperback)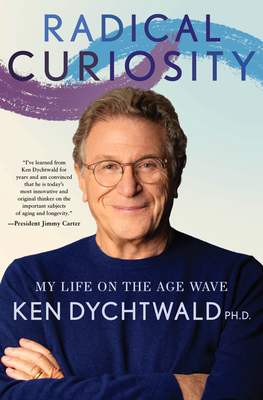 $18.00

Coming Soon - Available for Pre-Order Now
Description
---
"Ken Dychtwald maps out where success intersects with meaning to find your own unique crossing." --Deepak Chopra, MD From his working class roots in New Jersey to the "tune in, turn on, drop out" cliffs of Big Sur and the pinnacles of the human potential movement; from launching his company Age Wave and coming to terms with his own aging process, Ken Dychtwald's Radical Curiosity makes sense of his first 70 years of life, offering invaluable life lessons through the lens of a man constantly seeking truth and self-discovery-- giving readers a glimpse into a visionary's extraordinary world, and a guide for claiming a powerful vision of one's own.
Although Dr. Ken Dychtwald is widely regarded as one of the world's foremost experts on aging and longevity, Radical Curiosity offers an entirely different, and far more personal, perspective. Triggered by the deaths of his parents, and motivated by his cutting-edge research into the importance of leaving a legacy, Dychtwald dives deep to examine the arc and legacies of his own life through fantastic stories, mind-stretching adventures and his unique encounters with many of the world's great leaders and influencers, in order to show readers his keys to a meaningful, magical and purposeful life.
Ultimately, Radical Curiosity is a call to action, one which demands that we add more curiosity, purpose, interdependence and discovery to our lives, regardless of age.
About the Author
---
As an author of 18 books, including Bodymind, Age Wave and What Retirees Want: A Holistic View of Life's Third Age, a celebrated public speaker and teacher, successful entrepreneur, documentary film-maker and visionary thinker, Dr. Ken Dychtwald has been helping people look ahead for decades, both at their own - and their clients, consumers, patients and voters' - futures as well as the culture at large. Dychtwald has given presentations to over two million people worldwide and his ideas and research have garnered nearly fifteen billion media impressions. His client list has included over half the Fortune 500. He has served as a Fellow of the World Economic Forum, has keynoted two White House Conferences on Aging, and is the recipient of the McKinsey Prize for his writing in The Harvard Business Review. Ken has twice received the distinguished American Society on Aging Award for outstanding national leadership and he was honored by Investment Advisor as one of the 35 most influential thought leaders in the financial services industry over the past 35 years. Ken and his wife, Maddy, are the recipients of the Esalen Prize for their outstanding contributions to advancing the human potential of aging men and women worldwide. Ken was recently awarded the Inspire Award from in the International Council on Active Aging for his efforts to make a difference in the lives of older adults worldwide.