Terminal Punks Vol. 1 (Paperback)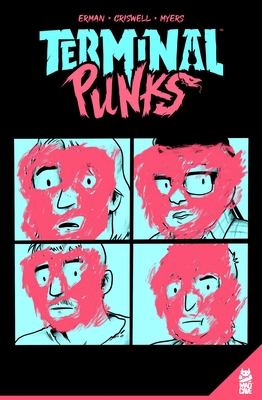 $14.99
Email or call for price.
Description
---
Four greasy gutter punk teens are en route to their big show in the big apple, but when things go monstrously wrong and mutant animals are unleashed in the airport, our heroes must put on their combat boots, fly their Black Flag and survive a viral genetic mutant nightmare. Collects issues #1-5.
About the Author
---
Matthew Erman is a writer of comics (primarily) and the creator of the critically acclaimed horror series Long Lost (2018, Scout Comics) with artist Lisa Sterle. Since then, he's worked on the properties: The Dark Crystal, Power Rangers, Care Bears, BONDING, Terminal Punks, and now Mariko Between Worlds with Mad Cave Studios.

Shelby Criswell is ultra stoked to have Terminal Punks as their first real floppy in a comic book shop, after years of self-publishing zines and minicomics. They have worked for some cool people like The Nib, Squat The Planet, & Oh Joy Sex Toy, and are currently working on their first graphic novel.

Micah Myers has lettered stories and books for DC Comics, Image, Dark Horse, IDW, Mad Cave, Webtoon, Devil's Due, Heavy Metal, Aspen, Starburns, Scout, Darby Pop, and many others. He has worked on comics with Steve Orlando, Matthew Erman, Magdalene Visaggio, Michael Avon Oeming, Mark Bertolini, Joe Corallo, Shane Berryhill, Cullen Bunn, Josh Blaylock, JT Krul, Chris Sebela, Curt Pires, and many more.
Praise For…
---
"If you're looking for a punk rock comic with endearing characters and something to say, you can't do much better than Terminal Punks."
— Evan Mullicane

"A fun, fresh comic that seems to be on its way to some interesting places – get on board now!"
— Avery Kaplan

"Terminal Punks mixes quirky humor with pure terror and I love it."
— James Ferguson

"There's a latent attitude that plagues every inch of Terminal Punks, and it's as punk and raw as its expressive art [...]"
— Duna Haller