Ninja Foodi Grill Cookbook for Beginners: Foolproof Recipes for Indoor Grilling and Air Frying Perfection (Paperback)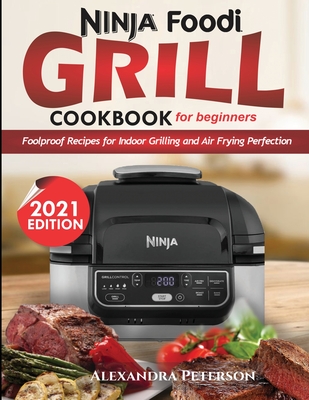 $14.99

Usually Ships in 1-5 Days
Description
---
Enjoy Easy & Delicious Foolproof Recipes with this Ninja Foodi Grill Cookbook for Beginners & Advanced Users 2021
Are you looking for a way to enjoy the delicious grilled meals without waiting for the right outdoor weather?
Do you want to enjoy grilled foods without filling your house with acrid smoke, like pan grilling?
The Ninja Foodi Grill Cookbook for Beginners is more than a cookbook. It also provides set up instructions, care and maintenance tips, pro advice on accessories to keep nearby, and go-to grilling techniques for your new favorite recipes. Everything you need to get started is right here inside this grilling cookbook.
The Ninja Foodi Grill Cookbook for Beginners includes:
Grilled Recipes
Air Fried Recipes
Dehydrated Recipes
Baked Recipes
Roasted Recipes
Helpful Tips and Tricks
Top Grilling Questions Answered
Amazing Foolproof Meals the Whole Family will Love.
Each of the recipes contained in this special cookbook has the following features:
Easy-to-find ingredients: Each of the ingredients for the recipes contained in this cookbook can be found at any local grocery store or farmer's market and are free from exotic ingredients
Step-by-step directions: All the recipes contained in this cookbook are written in a clear comprehensive manner for beginners and advanced users.
Preparation and cooking times: Each recipe comes Precise Cooking Times so Each Dish Turns Out Perfect.
With this Ninja Foodi Grill Cookbook, you finally have a cookbook you can indulge in again and again when cooking. All the recipes are easy to make with the simple ingredients. This is a must have tool for any Ninja Foodi Grill user.
Grab your copy now Unlock the full potential of your Ninja Foodi Grill with this comprehensive cookbook.