Little Foxes Took Up Matches (Hardcover)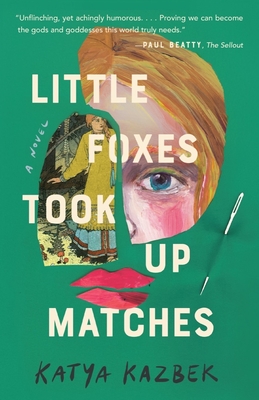 $26.95

Usually Ships in 1-5 Days
Staff Reviews
---
 Mitya, an 11 year old, is growing up in Post-Soviet Russia. His family is struggling through the economic turmoil while he tries to come to terms with his gender identity.  His best friends are street kids and a homeless man. He is tormented by a cousin who returns from the Chechen war and lives with his family because his father died in Afghanistan.  The story is woven together with a Russian fairy tale. A captivating plot that kept me interested, and the setting and descriptions of everyday life in Russia during those years drew me in as well.
— Amy
Description
---
A VOGUE, Debutiful, and Secular Times Best Book of 2022

A NYLON, Chicago Review of Books, and Kirkus Best Book of the Month
A Rumpus Most Beautiful Book of 2022

"Unflinching, yet achingly humorous. . . . proving we can become the gods and goddesses this world truly needs." —Paul Beatty
An arresting coming of age, an exploration of gender, a modern folktale, a powerful portrait of a family—Katya Kazbek breaks out as a new voice to watch.
When Mitya was two years old, he swallowed his grandmother's sewing needle. For his family, it marks the beginning of the end, the promise of certain death. For Mitya, it is a small, metal treasure that guides him from within. As he grows, his life mirrors the uncertain future of his country, which is attempting to rebuild itself after the collapse of the Soviet Union, torn between its past and the promise of modern freedom. Mitya finds himself facing a different sort of ambiguity: is he a boy, as everyone keeps telling him, or is he not quite a boy, as he often feels?
After suffering horrific abuse from his cousin Vovka who has returned broken from war, Mitya embarks on a journey across underground Moscow to find something better, a place to belong. His experiences are interlaced with a retelling of a foundational Russian fairytale, Koschei the Deathless, offering an element of fantasy to the brutal realities of Mitya's everyday life.
Told with deep empathy, humor, and a bit of surreality, Little Foxes Took Up Matches is a revelation about the life of one community in a country of turmoil and upheaval, glimpsed through the eyes of a precocious and empathetic child, whose heart and mind understand that there are often more than two choices. An arresting coming of age, an exploration of gender, a modern folktale, a comedy about family, Katya Kazbek breaks out as a new voice to watch.
About the Author
---
Katya Kazbek is a bilingual Russian/English writer, translator, and editor who cofounded the online magazine Supamodu. A graduate of Parsons and Oxford's writing program, Kazbek received her MFA from Columbia University. She lives between New York, New York, and Moscow, Russia.
Praise For…
---
Moving.
— The New York Times Book Review

A queer coming-of-age narrative in every sense of the word, Kazbek's novel is twisty, tragic, and deeply charming—an endearing exploration of the stories we tell and the people we find in order to live.
— VOGUE

A coming of age story that is at times chilling and in equal moments heartfelt, and at the center of it, Mitya is simply trying to find his own way. Kazbek writes with a kind of urgency that makes her novel a true standout. Every page sparks with energy in this ambitious and original debut.
— BuzzFeed

[A] surrealist, funny debut novel.
— NYLON

Charming.
— Chicago Review of Books

Twisty, tragic, and deeply charming.
— Secular Times

Sometimes in the face of perversity, neglect, and growing up in a rundown Moscow flat one-bedroom too small, one needs to do their own myth-making. And in this unflinching, yet achingly humorous look at millennial Russia, Katya Kazbek celebrates a wonderfully heroic self-deification. Proving we can become the gods and goddesses this world truly needs.
— Paul Beatty, author of The Sellout

Many have tried and failed to summon the magic Katya Kazbek wields here as matter of factly as a switchblade. A relief, really, to read a debut novel as original as this—as cunning, wild and free.
— Alexander Chee, author of How to Write an Autobiographical Novel

Katya Kazbek's first novel is a book borne out of her experience of living in a world in which nothing is fixed but struggle, humor, and the unreality to be found in the reality of everyday life. Told with precision, empathy, and a non-jaundiced eye for the absurdity inherent in being different in a world that doesn't necessarily cherish it, Little Foxes Took Up Matches, is an auspicious debut, eminently cherishable.

— Hilton Als, author of White Girls

Not easily forgotten. . . . returns readers to the state of stunned wonder that is the world of childhood.
— Los Angeles Review of Books

An unpredictable love story that is mesmeric, totally original, and deeply, deeply touching, Little Foxes Took Up Matches examines our competing human instincts to belong and to escape. Kazbek has reinvented—and bewitched—the coming-of-age genre, and I can't wait to succumb to whatever magic she writes next.

— Courtney Maum, author of Costalegre

Katya Kazbek's Little Foxes Took Up Matches is a stunning and transformative novel that shows us the playful possibility and subversive quality of queer myth-making. With humor, heart, and expansiveness, Kazbek forges a new language to belong inside and reinvents storytelling. This book will swallow you and shelter you. It's pure magic and will rearrange you from the inside-out.

— K-Ming Chang, author of Bestiary

A luscious modern queer fable drawn in post-Soviet Russian red lipstick. Kazbek's dreamy family of misfits forged in the feminine occult will stay with you forever. Brava!
— Sophia Shalmiyev, author of Mother Winter

A Russian satire, a queer myth, an enchanting coming of age story—Little Foxes Took Up Matches is one of the most original, and charming, debuts I've read in some time. Katya Kazbek writes with wit, heart, and the needle-prick of life.

— David Ebershoff, author of The Danish Girl and The 19th Wife

Absorbing and unremittingly honest, Little Foxes Took Up Matches is a magnificent journey with a thunderous effect that both injures and mends. Kazbek writes this fascinating story with eloquence, human understanding and compassion. She illuminates post-soviet Russia's contradictions in prose as undeflected and fearless as the contradictions themselves are piercing and violent. It's nothing short of exceptional that anyone can write original, brilliant, and witty prose in a language not their own; we marvel at a Vladimir Nabokov, a Joseph Conrad, a Jhumpa Lahiri, a Katya Kazbek.

— James Cañón, author of Tales from the Town of Widows

I am in love! Little Foxes Took Up Matches is an utterly spectacular modern myth. This rapturous coming-of-age, equal parts wit and grit, weaves a spellbinding tale about having the courage to incite a revolution in oneself. With this debut Katya Kazbek proves she is an absolute legend in her own right.

— Afia Atakora, author of Conjure Women

Stunningly heartfelt.
— Necessary Fiction

Poignant, lyrical, heartbreaking.
— Autostraddle

Poignant.
— Book Riot

Kazbek's coming-of-age story weaves folklore, sexuality, and family drama seamlessly. Little Foxes is a heartwarming tale of finding yourself even when it doesn't seem possible to do so.

— Debutiful

A raucous, magical debut.
— The Nashville Review

A lovely debut confronting gender, gender identity and the pursuit of all kinds of justice.
— Book Reporter

A dark LGBTQ punk-rock coming-of-age story.
— The Bloggess

A beautiful exploration of gender identity.
— Call Me Brackets

A coming-of-age triumph. . . . a revolutionary queer story. . . . a potent exploration of the flexibility of gender and the peace in not knowing; an ode to friendship and an endorsement of compassion.
— Full Stop

A rich and moving look at a child in the midst of self-discovery. As dark as a Brothers Grimm fairy tale—and as magical.
— Kirkus, Starred Review