BEYOND KUIPER: The Galactic Star Alliance (The Special Edition) (Hardcover)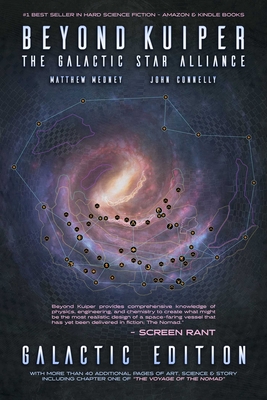 $34.99
Email or call for price.
Description
---
The galaxy is alive and filled with life. The only issue: we humans aren't invited. The Galactic Star Alliance awaits your exploration.

The Amazon #1 Best Selling Hard Science Fiction Novel is back with the Galactic Edition with More Planets & More Science!

There is no Drake Equation. There is no question on sentience. The galaxy is alive and filled with life. The only issue: we humans aren't invited.

The Galactic Star Alliance awaits your exploration.

In this illustrated novel co- created & written by Matthew Medney (Heavy Metal Magazine CEO & NYU adjunct professor) and John Connelly (Lockheed Martin Aerospace Engineer), humankind acknowledges the vastness of time, the cyclical nature of civilization, and the obscurity of our own history.

If our galaxy is so full of sentient life, why has no one said hello? We thought of a simple, logical reason: no one wants too. Stepping back and casting an objective eye on ourselves, it seems painfully obvious that humans lack a fundamental respect for our planet and for each other. We possess extremely short memories and long grudges, and the likelihood of receiving alien tools to hasten our expansion seems downright foolhardy.

The Galactic Star Alliance has been alive and well for millions of earth years. Hundreds of thousands of sentient worlds and trillions of beings walk, run, and crawl across the many home worlds of the Alliance. This revelation led to many questions: How is faster-than-light speed travel possible, and could cohesive, interstellar civilizations exist without it? Is it conceivable to govern a coalition not of different countries, but of different species? Each question led to another and each answer built our world, piece by piece until it spanned thousands of answers and millions of light-years. As for the title, from where would our judges watch us?

But our galaxy has spoken to us humans. There are some who believe it is out there. Not as science-fantasy but as science.

Introduce Bernard William Hubert. World renowned astrophysicist, and Lead Scientist of the seminal company of exploration, Outer Limits. While on loan to CERN, a catastrophe of unimaginable proportions leaves Bernard as the sole survivor. While the scientific community & world looks to him for answers, he simply states the unthinkable "it has to be aliens." Inconceivable to the world, the Hubert family is investigated and his family's name tarnished.

Disgraced and shunned. Bernard claws his way back into the equation with his new company C.O.R.E as they work tirelessly to design an engine capable of interstellar travel.

Follow Bernard on his road to redemption and discovery in this ensemble cast of futurism, space travel and the fate of our species.

This expanded "Galactic Edition" includes the original illustrated 35 pieces of beautiful, full-color, painted artwork by Utku Ozden along with a sneak peek at Chapter 1 of the second installment of Beyond Kuiper, The Voyage Of The Nomad. 12 exclusive pieces of art from the second book & 15 planets, designations, and information about the Karandu galaxy illustrated by Luigi Aime
About the Author
---
Matthew Medney is the CEO of the generational & legendary Heavy Metal Magazine, and co-founded Boutique Storytelling Company, Herø Projects where he also still presides as CEO. Leading the charge at two genre focused brands, Matthew spends most of his time thinking about the unknown.

A graduate of the University Of Massachusetts at Amherst's Isenberg School of Management, Matthew started his career in the live events space, operating as a tour & production manager, traveling across 45 countries producing over 200 shows for concerts such as Coachella, Ultra Music Festival, Electric Daisy Carnival & Lollapalooza.

"A Prolific Writer" (Variety) with the ultimate goal of looking to expand minds and engage readers through high concept Science Fiction, Medney has authored best selling works such as his hard sci-fi novel Beyond Kuiper: The Galactic Star Alliance and the graphic novel Dark Wing. In addition, he has penned multiple comic books including The Red, and his highly anticipated forthcoming work The Adventures of Adrienne James, which can best be described as "female Indiana Jones - in space" - SYFY

Other notable comic and graphic novel works Medney has helmed include work done in collaboration with bands and music festivals such as the largest Hip Hop Festival in the world Rolling Loud, Grammy award winning musician Shaggy, along with other notable talents such as NGHTMRE, Pegboard Nerds, Riot, and Insomniac's Events.

- Builds spaceships.
John is a Mechanical Engineer for Lockheed Martin Space, who contributes to numerous NASA missions, including Mars 2020, LUCY, Deep Space Gateway, and Orion; however, space and the unknown don't occupy his entire being. Following his dreams to work in the aerospace industry, John moved to Denver, Colorado where he met Tony, his amazing wine slinging partner, who is a Chef and Sommelier. John's expansive mind and energetic curiosity led him to enjoy a myriad of creative outlets, such as boulder scrambling, disc golf, searching for the perfect wave to body surf, gardening peppers too hot to eat, and gloving. Between delving into these fine activities, he honors his Irish heritage and cardio needs by participating in Ireland's true traditional sport: hurling (look it up). Beyond all this, he is an artist, an acrylic painter, whose strokes transcribe exotic dreamscapes to canvas and bring a vibrant lush palette to illuminate new worlds.

Throughout all of these diverse facets of life, his affinity for words never wavered. Transcribed and translated from existential questions to tangible adventure, his and Matt's world building and galactic lore span a lifetime of curiosity.