Of Light and Darkness (Hardcover)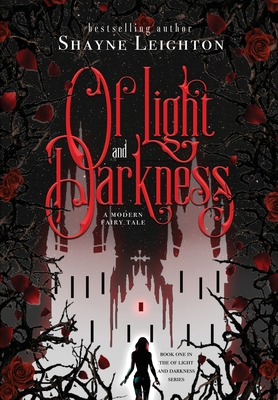 $26.99

Usually Ships in 1-5 Days
Description
---
"An absolutely unstoppable love story in an unputdownable book. So many twists and surprises I could barely take a breath " - Shelly Crane, New York Times Bestselling Author of Significanceand Wide Awake
"A true delight from start to finish It is sure to leave you thirsting for more " - Diane Alberts, USA Today Bestselling Author
"I love a vampire that does what a vampire is supposed to do...I highly recommend this story as a must read Goodbye Bella and Edward "- I Heart YA Books
"This was such a magical and beautifully written tale of love and found family. The plot had all the dynamic twists and turns to keep me enthralled to see what would happen next. I support any book that takes the "good versus evil" theme and flips it so the "evil" beings are misunderstood and hated by the "good" for being different. Also, I just really like vampires." - Verified Reviewer
"Leighton had shown off her talents as a world builder, with an ability to create an atmosphere the reader can feel a part of. Her characters arrive on the scene fully fleshed out, each with their own quirks and backstory." - Steve Taintor, Vine Voice
"Holy f***ing s*** This woman is an f***ing genius I mean, seriously I was hooked in from the very first word to the f***ing last This book deserves 1,000s of stars because its just that f***ing epic. EPIC That's the perfect word for this book." -Verified Reviewer
Charlotte Ruzikova is an ordinary girl, but in a world of magic and monsters, it's exactly what makes her an outcast.
In occult Prague, Witches draw enchantment spells, Shifters throw tea parties, and markets glow like stardust as jack-o'-lanterns jeer from cobblestone paths. For humans on the mundane side of town, the occult city is a fairy tale for storybooks, but for Charlotte, it's home.
When she catches the eye of an Elven prince and spurns his advances, Charlotte sparks a devastating war between the creatures of the light and those lurking in the darkness. Worst of all, she endangers the person she loves most: the man who brought her to the occult city.
Joining forces with a coven of outcast monsters, Charlotte rebels against an empire to preserve the magic in her city and in her heart. But can her allies set aside their differences for the greater good? Loyalties are tested and grudges grow thorny roots, but no matter the cost, Charlotte will fight to save the shadows.
In the occult city, the dawn cannot consume the night.
Warning: Guillermo del Toro-style monsters with the heart of a Studio Ghibli film roam free in the streets of Occult Prague. Fans of THE MORTAL INSTRUMENTS and THE VAMPIRE CHRONICLES will be eager to visit.