Star Wars Leia, Princess of Alderaan, Vol. 1 (manga) (Star Wars Leia, Princess of Alderaan (manga) #1) (Paperback)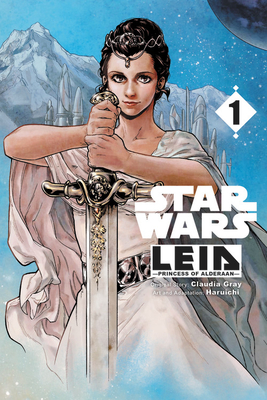 $13.00
Usually Ships in 1-5 Days
Description
---
The never-before-told story of how young Leia Organa comes to join the rebellion against the evil Empire.

A young Princess Leia spends her days learning the ways of politics, aiding those in need and preparing for the traditional ceremony in which she declares her intention to one day rule Alderaan. But as Leia prepares herself to be named the heir of the throne, she becomes aware of the growing distance between her and her parents, who behind closed doors are leaders of the newly formed rebellion. Upon learning her parents' secrets, Leia must now make a choice between her responsibility to the people of Alderaan and her responsibility to save a galaxy crushed by the rule of the Empire.


About the Author
---
Claudia Gray is the New York Times bestselling author of many science fiction and paranormal fantasy books for young adults, including Defy the Stars, Defy the Worlds, the Firebird series, the Evernight series, the Spellcaster series, and Fateful. She's also had a chance to work in a galaxy far, far away as the author of the Star Wars novels Lost Stars,Bloodline, and Leia, Princess of Alderaan. Born a fangirl, she loves obsessing over geeky movies and TV shows, as well as reading and occasionally writing fanfiction; however, she periodically leaves the house to go kayaking, do a little hiking, or travel the world. She will take your Jane Austen trivia challenge any day, anytime. Currently she lives in New Orleans.