8 Rules of Love: How to Find It, Keep It, and Let It Go (Hardcover)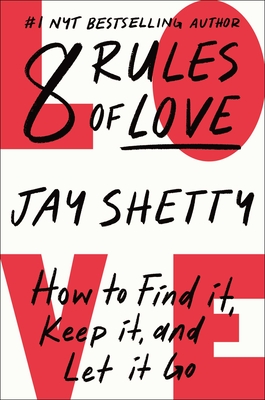 $28.99

Usually Ships in 1-5 Days
Description
---
The author of the #1 New York Times bestseller Think Like a Monk offers a revelatory guide to every stage of romance, drawing on ancient wisdom and new science.

Nobody sits us down and teaches us how to love. So we're often thrown into relationships with nothing but romance movies and pop culture to help us muddle through. Until now.

Instead of presenting love as an ethereal concept or a collection of cliches, Jay Shetty lays out specific, actionable steps to help you develop the skills to practice and nurture love better than ever before. He shares insights on how to win or lose together, how to define love, and why you don't break in a break-up. Inspired by Vedic wisdom and modern science, he tackles the entire relationship cycle, from first dates to moving in together to breaking up and starting over. And he shows us how to avoid falling for false promises and unfulfilling partners.

By living Jay Shetty's eight rules, we can all love ourselves, our partner, and the world better than we ever thought possible.
About the Author
---
Jay Shetty is a #1 New York Times bestselling author, award-winning storyteller, podcast host, and former monk, dedicated to helping people train their mind for peace and purpose every day. In 2017, Forbes named him to their 30 Under 30 List for his game-changing impact in media. His viral videos have been viewed more than 10 billion times and he is followed by over 50 million people across social media. In 2019, Jay created On Purpose, now the world's #1 Health and Wellness podcast. He's been a keynote speaker around the world, invited to Google, Microsoft, Netflix and American Express, among many others. Over two million people have attended his Online School, and his Genius Coaching community provides weekly programming on health and wellness to thousands of members in over 100 countries.
Praise For…
---
"[A] refreshing look at love as a daily practice…Shetty combines spiritual wisdom and down-to-earth guidance in a surprisingly seamless way, making for lessons that have real staying power. Those looking to start or strengthen relationships will find this well worth a look." —Publisher's Weekly

"An excellent guide to rising in love to joy and fulfillment." —Deepak Chopra

"In this insightful, myth-shattering book, Jay Shetty combines ancient wisdom and modern science to show how we can find -- in ourselves and others -- the love we all deserve."—Lori Gottlieb

"Jay's ability to write with such truth and wisdom when it comes to love and life is masterful. Somehow a topic that has always felt larger than I could handle now feels within reach. This book left me feeling confident and clear about how to move through Love with grace." —Shawn Mendes

"Jay's great book provides real and heartfelt solutions to the complex problems that arise around love. I wish I'd been able to read it when I was young and chasing love and I'm grateful I've read it now - you will be too." —Russell Brand

"This is not a book of pick up lines or dos and don'ts of dating. 8 Rules of Love is honest and filled with wisdom I've never encountered before. The next time you're tempted to ask your hot mess friend for relationship advice, pick this book up instead." —Lilly Singh