The Icarus Plot (Hardcover)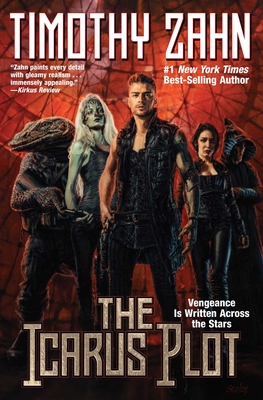 $25.00
Email or call for price.
Description
---
NEW SCIENCE FICTION SERIES FROM THE CREATOR OF THE COBRA SERIES AND STAR WARS' ADMIRAL THRAWN

There wasn't much money to be made as a Trailblazer, searching out new worlds for possible development. Still, it was safer than the bounty hunter career that had cost Gregory Roarke his left arm six years ago. And thanks to his Kadolian partner Selene's ultrasensitive sense of smell, they occasionally discovered a medically promising seed or spore they could sell under the table. It was a quiet life, uneventful and mostly legal.

Until Roarke was approached by two men with a proposal: track down a mysterious woman named Tera and, through her, locate a secret project called Icarus.

The challenge was intriguing. The unlimited budget was tempting. But Roarke had a more personal reason to accept the job.

The chance for long-delayed payback.

About The Icarus Plot:
"There are plenty of little things to delight the longtime Zahn reader, while also bringing new fans in a way that is perfectly accessible... Zahn remains one of the best writers of action I have ever had the pleasure of reading...The Icarus Plot is pure fun in the way that only one of the genre's greatest yarn-weavers can do."—Warped Factor

"Timothy Zahn is a mainstay in the field of science fiction."—Seattle Book Review

"Anyone who has ever been interested in noir science fiction and espionage should read this. Take the espionage of John le Carre, the deduction of Sherlock Holmes, the twisty nature of The Sting, and you have The Icarus Plot."—Upstream Reviews

About Timothy Zahn:
"Zahn fans will enjoy the variety of small-unit combat scenes in the action-packed third and final Cobra Rebellion military SF adventure . . . [a] gripping series."—Publishers Weekly

"Zahn keeps the story moving at a breakneck pace, maintaining excitement."—Publishers Weekly

". . . you can count on Timothy Zahn for three things: clean, sparse prose; good pacing; and great action scenes. The first book in the Cobra War series hits all those marks in admirable style and makes for a quick, entertaining sci-fi novel."—BlogCritics

"[Conqueror's Heritage] is another finely wrought space adventure . . . [with] social, political, and emotional complications, all of which Zahn treats with his usual skill."—Booklist

"Zahn paints every detail [in Angelmass] with gleamy realism . . . scientific dialogue that streams with starship hardware and military trooper talk . . . immensely appealing."—Kirkus Review
About the Author
---
Timothy Zahn is a Hugo Award winner and the author of the New York Times #1 bestseller Heir to the Empire, as well as the best-selling Star Wars: Thrawn series of novels. Born in Chicago, he earned a B.S. in physics from Michigan State University and an M.S. in physics from the University of Illinois. He sold his first story to Analog in 1978, and immediately attracted attention as a new writer of science fiction based on real, cutting-edge science. Baen published his popular Cobra trilogy in one volume. His other popular series include the Conqueror and Dragonback novels. With David Weber and Thomas Pope, he is the author of novels A Call to Duty, A Call to Arms, A Call to Vengeance, and A Call to Insurrection. Zahn has written more than 50 novels, including the recent Cobra Rebellion series entries Cobra Outlaw and Cobra Traitor.